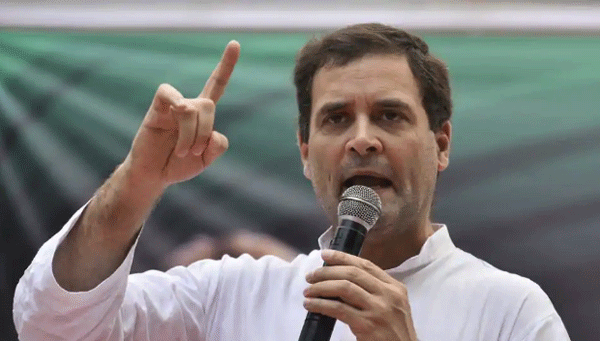 Congress President Rahul Gandhi leading the Congress charge on the Rafale deal in the Lok Sabha.
Rahul said the Prime Minister in an interview said that no one is accusing him personally on Rafale. Rahul said in fact, the entire nation is asking a direct question to the PM. PM Modi doesn't have the guts to answer on Rafale in parliament, he's hiding in his room.
He said he had three questions to ask PM Modi on the Rafale deal regarding the following: First pillar is process, second is pricing and the third and most interesting is patronage. Rahul said senior officers of the IAF chose Rafale after long negotiations, IAF wanted 126 aircraft, why was the demand changed to 36? UPA was buying an aircraft at Rs 526 crore but when Modi went to France a new deal surfaced at Rs 1600 cr per aircraft, why did the price change?
Congress president Rahul Gandhi wants the audio tape on the Rafale deal to be played in the House. However, Lok Sabha Speaker Sumitra Mahajan denies the request. Rahul Gandhi then begins reading the transcript of the tape, but the Speaker stops him and says it has to be authenticated first.
Rahul says he won't read the trancript but "in the spirit of the 21st century" it should be allowed .
Arun Jaitley jumps up and says the last time the MP (Rahul Gandhi) spoke on Rafale, he lied before the nation by concocting a conversation between him and the French President. Jaitley says no recording should be allowed in the house without it being authenticated. "If he (Rahul Gandhi) can take responsibility of the authenticity of the tape then he can play. But, it's a fabricated one," Jaitley said and added that Rahul lied five times a day.