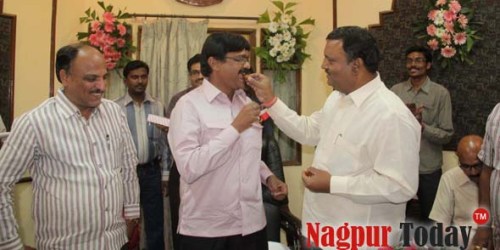 Nagpur News.
As the tenure of NMC's present Standing Committee Chairman nears its end, the desperation to grab the post is apparent among the BJP leaders who are prominently seen pleasing top rung leaders to press for their positions. Former BJP chief Nitin Gadkari and Mayor Anil Sole have been at the nucleus of the strategy to pick up the eligible party leader in order to serve the position after Avinash Thakre, the outgoing standing committee chief.
Insiders said that two BJP office-bearers have been desperately demonstrating their ability and leave no opportunity to impress both Gadkari and Sole. Meanwhile, speculations are also rife that Thakre could be picked up again to serve second term.
The city BJP is reportedly functioning from two ends. Party's state president and city MLA Devendra Fadnavis and Nitin Gadkari have been two powerful leaders who have their prominent say in the city's party affairs. There were talks over Gadkari to be contesting next Lok Sabha Elections from BJP. This has prompted Fadnavis to make up his mind to act and adhere to Gadkari's wishes.
The chairman of Irrigation department Sudhakar Kolhe and Chairman of Health Department Ramesh Singhare have been vying for the post of Chairman of Standing Committee. Both make it a point to ensure their presence and display their capacity at every public programme attended by either Gadkari or Sole.
As far as the political credential goes, both Kolhe and Singhare had not much achievement to boast of. Both have often drawn flak for their failure to address mass grievances. Even NMC administration is reportedly least concerned of their directives.
However, Gadkari is to take the final call in picking up the next standing committee chairman. There is a likelihood of Thakre given the second term in absence of fit candidate to replace him. The present chairman has not only earned brownie points in raising the revenue of NMC but also stands for new age leadership in civic body. Keeping in mind the electoral strategy that the party has made for the upcoming elections, it is quite possible someone else is made the chairman keeping in mind the regional equations. Interestingly the new standing committee chairman would be able to serve only for 6 months as the election will be round the corner and the Code of Conduct will come into force.