Nagpur: In September 2016 Yoga guru Ramdev-promoted Patanjali Ayurveda launched its mega food park on a 230-acre land at MIHAN, Nagpur promising to employ 10,000 people and engage 50,000 farmers of the region in trade.
The company, Ramdevbaba said plans to develop a Rs 1,000-crore food park at Multi-model International Cargo Hub and Airport, Nagpur (MIHAN), where juices would be made from famous Nagpuri oranges and for the first time packaged as a brand.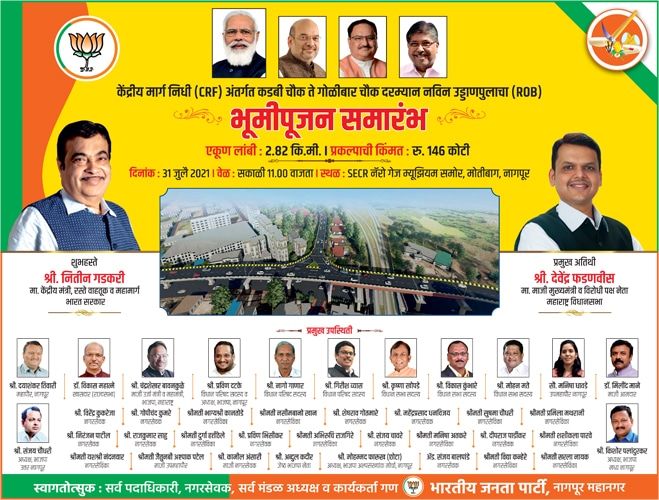 The plant was to be Patanjali's first expansion from its facility near Haridwar in Uttarkhand.
The project became controversial right from the start because land for this 'food park' was given to Patanjali at a throw away price of Rs. 25 lakhs per acre when commercial price for the land was upward of Rs. 60 lakhs per acre at least.
Then the SEZ and non SEZ lands dispute erupted and the unit approval committee (UAC) under the Development Commissioner's office for Mihan-SEZ had held up its approval on the grounds that the wall demarcating Patanjali's plots in the SEZ and non-SEZ areas had gaps. Both the projects are side by side. The non-SEZ plot was purchased through competitive bidding.
Soon after it gave a cheque worth Rs 64 crore to MADC, Patanjali had issued stop payment orders to its bank. This had led to the cheque being dishonoured twice. Balkrishna, Patanjali M.D. said the stop payment was done as getting possession of SEZ land was held up due to UAC's objections related to the wall.
Later, he said the dispute had been cleared and payment was made.
But criticism and controversy has stuck to the project since then and it has attracted a lot of political and media scrutiny in the initial stage.
Promises made of the Food Park
Union Minister Gadkari, who was instrumental in getting the yoga guru to invest in the region, had claimed that Patanjali would be a boon to farmers of Vidarbha region, beset with farmer suicides, and it would transform Nagpur.
He said tribals from Gadchiroli, Gondia and Chandrapur, who make a living collecting forest produce, like medicinal plants and herbs, will benefit tremendously.
Farmers will be trained by Patanjali to grow crops like orange, aloe vera, tomato and herbs and given a purchase guarantee. A team of scientists and experts would also provide help.
C.M. Fadnavis had dismissed Congress leader Vilas Muttemwar's allegations that the government has given MIHAN land to Patanjali at a throwaway price, saying there was a total transparency.
"We floated tenders thrice and Patanjali Ayurveda was found to be the right choice as per central vigilance commission norms," he claimed.
"Patanjali has assured to fulfill all these norms," he said.
The plant is expected to link nearly 50,000 farmers' suppliers, create direct employment for over 10,000 people and eventually provide indirect employment to lakhs of families.
The Chief Minister had said that Ramdev's company had also assured to procure raw materials worth Rs 100 crore from farmers and tribals in the region, and train at least 2,000 farmers a year across Maharashtra to improve productivity, quality and acquire market intelligence for agro business development.
16 months down the line, where is the Food Park?
When Nagpur Today visited the MIHAN area alloted to Patanjali on 26th January 2018, this is what we saw:
An extended compound wall, topped with barbed wire going round the periphery of the land. But with gaps for people to walk through.
Some coils, presumably of wire, some machinery lying idle and a few hutments for supervisors and staff,probably.
There was a lull over the area, no signs of any ongoing activity, or any further construction work. A few 'chowkidar' kind looking men were loitering around, going in and coming out through the gap in the wall, that's all.
A woman running a small snacks and tea shop along the wall said Patanjali was going to be manufacturing juice here and "lots of food items". She hopes to get a lot of business when "work really begins."
Right now, she earns her daily income from the youngsters "employed in HCL on the other side of the road. They want different things throughout the day so we made samosas, bhajias, bread pakoda and moong and palak wadas. Also Masala Maggi. I change the 'menu' everyday!"
In that entire stretch of the proposed international level 'Food Park' that is the only food we found being made by 2 taparis. Tea, samosas and pakodas.
Where is that factory that is going to employ 10,000 people and purchase raw material from thousands of our farmers and also train them to grow new things?
Has Factory migrated to M.P. ?
Could the reason for the lull in MIHAN be that the juice and other food factories are not coming here at all? That this vast tract of 'cheap' land alloted for a specific purpose is going to be utilized to build ware houses and godowns while manufacturing will happen else where.
In neighboring state of M.P. is what we hear from sources.
Word is that they were allotted land almost free by the BJP Govt. in M.P. and power tariff will be less than half of MIHAN. And a lot of other sops not available in Nagpur.
( On second thought, many such advantages are being offered by the new state of Telengana too, another state than flanks Vidarbha. May be some manufacturing could happen in that state also; it also has the forest cover and agricultural activities to supply the raw material needed.)
Balkrishna is nothing if not a hard core businessman. If he can produce the same things at half the cost else where why will he waste resources in the SEZ of MIHAN?
There is also the obligation that he must export everything that is made in the SEZ. (Therefore the acquiring of the non SEZ area also and the dispute that had arisen because the two tracts of land are almost joined.)
Where is the 'Make in Maharashtra' then?
Just last week, Patanjali has been granted another big favor. The Government of Maharashtra will offer the whole range of Patanjali products through its thousands of e- Seva kendras set up to provide services such as income and domicile certificates, PAN Card, Aadhaar, and passport related documents to citizens at their doorstep.
The logic and justification behind this step was that since these products were going to be 'Made in Maharashtra' they should be promoted by the state.
But now cheaper power, water, labour etc. etc. this potential seems very likely diverted from 'costly' Maharashtra across our borders.
If only we had Vidarbha!
If only we had had the state of Vidarbha to compete with these 'upstarts'! We could have shown them what cheap power was.
Alas!!! Magar yeh ho na sakaa… aur ab ye aalam hai ki tu nahi tera ghm nahi, teri justjoo bhi naheen!
… Sunita Mudaliyar – Ex-Editor