Puja and a havan before Adityanath moves into his new house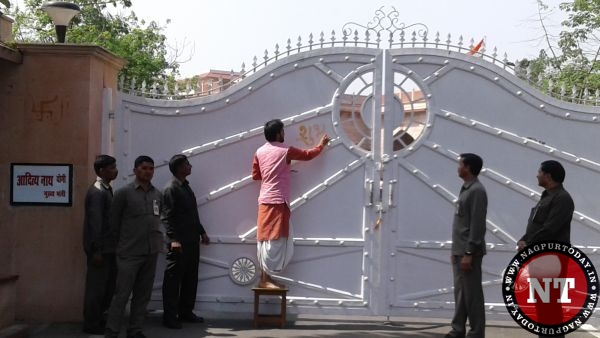 Lucknow: Wearing a dhoti and kurta, a priest perched on a stool performs rituals at the gates of of 5, Kalidas Marg in Lucknow, the official home of the Uttar Pradesh Chief Minister. The home now has a new occupant, Yogi Adityanath. The nameplate now says Aditya Nath, Yogi, Chief Minister.
As security officials stand guard outside the house, the priest writes an 'Om' followed by a Swastika and the words 'Shubh' (auspicious).
The priest is from the Gorakhpur math, which is headed by Yogi Adityanath. The priest accompanied by a team, will also perform rituals like a havan, inside the house before Adityanath moves in. Yogi Adityanath will also walk into the house at an auspicious hour.
The five-time member of Parliament from Gorakhpur was sworn in on Sunday with two deputies – Keshav Prasad Maurya and Dinesh Sharma – and 44 other ministers carefully chosen by the BJP, which swept the Uttar Pradesh election.