Public expect a lot from Chartered Accountants – G V Sekhar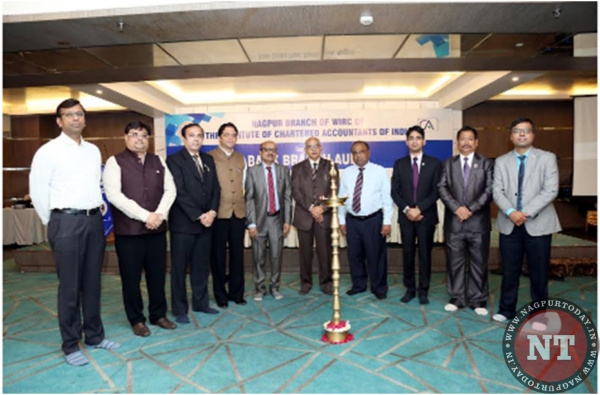 Nagpur: The month of April is going to be very tough for Chartered Accountants as well as the Bankers as they have to do a major task which will benefit the banking system and the society at large. The society has lot of expectations and confidence on the banking system for which CA's have to work with lot of social responsibility along with the professional. CA's should also work as a guide which will help the bankers to perform the work to the best of their abilities. Chartered Accountants are known for the meticulous planning and the displine followed during the professional work carried out by them. Hence the general public has had hgh regard and expectation from a Chartered Accountant said G V Sekhar, Deputy General Manager of UCO Bank.
He was speaking as the chief guest at the full day seminar on Bank Branch Audit organised by Nagpur Branch of ICAI. He added that the government has given right of certification to Chartered Accountants only since it considers Chartered Accountantany profession to the most noble and knowledgeable amongst all profession. He also shared his thought on various aspects with regards to Banking System while highlighting the expectation by banks from a Chartered Accountant. He further complimented the large number of Chartered Accountants attending the seminar to equip themselves for Bank Audits. He appreciated the work of Nagpur Branch in organizing numerous professional programs for the benefit of members.
Earlier, CA. Abhijit Kelkar, Regional Council Member in his brief remarks informed that the cooling period was applicable in 33 districts across the country. He stated that Chartered Accountants are the Financial Doctors. He however cautioned the audience that with the recent issues in Banks, role of auditor has increased to a much higher level and therefore the task given to the fraternity should be given due justice by everyone.
CA. Umang Agrawal, Chairman of Nagpur Branch of ICAI in his welcome remarks mentioned that the role of Auditors is increasing day by day. The Chartered Accountants are now expected to check various non financial aspects in Banks too. He thus appealed the members that Bank Audits should be done in a dedicated and committed manner with through preparation and planning. He further informed the members present about various new initiatives of Nagpur Branch along with the forthcoming programs.
In this program, CA. Amarjit Chopra from New Delhi deliberated on Audit of Advances, CA. Ajay Jain from Gurgaon deliberated on Restrucuturing of Advances and IRAC norms. CA Giriraj Soni, Mumbai dwelled on the issues in Core Banking System whereas CA. Prakash Kulkarni, Pune discussed various provisions with respect to Audit of Agricultural Advances.
CA. Suren Duragkar co-ordinated the Inaugural session whereas CA. Kirit Kalyani and CA. Sanjay Agrawal co-ordinated the Technical Sessions. CA. Julfesh Shah and CA. P R Risbud chaired the technical sessions. Prominently present were CA. Swapnil Ghate, CA. Saket Bagdia, CA. Jiten Saglani, CA. Swapnil Agrawal, CA. Preetam Batra, CA. Govind Batra, CA. Rajesh Khanzode, CA. Satish Sarda and members in large numbers.