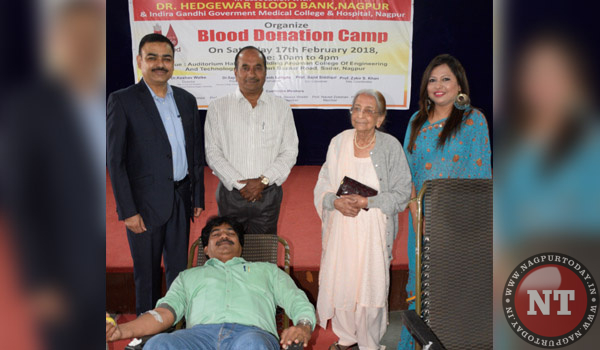 Nagpur: Prof Zakir S Khan, ACET-NSS Coordinator, who has been donating blood every year to develop social awareness among the Students and society donated blood 2oth time on 17th February at Anjuman Engineering College. The Blood Donation Camp was conducted by National Service Scheme in association with Indira Gandhi Govt Medical College & Hospital (IGMC), Nagpur and Dr Hedgewar Blood Bank, Nagpur.
Prof Zakir Shaifullah Khan, ACET-NSS Coordinator is Asian Karate Federation Kumite Judge, President-Karate-Do Association of Nagpur District, Treasurer-Karate Maharashtra Sports Association, Member-KAI Tournament Commission Member, Director (FIMSC) Federation of Indian Muslim Sports Club and Founder Committee Member-Masjid & Madarsa-E-Ghousul Azam (RA) Awashthi Chowk, Jafar Nagar, Nagpur.
Prof Zakir Shaifullah Khan give the credit for donating blood to his parents father Late Shaifullah Khan and mother Late Akhtari Begam, He has thanked his wife Shama, daughter Zareen and son Salman,also giving credit to Principal Dr Sajid Anwar and RTMNU NSS Director Dr Keshav Walke for their motivation.