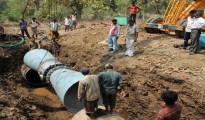 Nagpur News: The investigation officer,  Executive Engineer of NMC's Water Works  Department  Azizureheman, who was given responsibility by the NMC Commissioner Shyam Wardhane for probing  the tampering with the main pipeline of 900 mm at Gangabai Ghat Square Water Station by Corporators to supply water clandestinely to citizens who were agitated by irregular water supply and strongly blaming the concerned Corporators, has been given two more days to submit the final report.
The reason behind extension was the strong objection by Superintendent Engineer Prakash Urgade of the project who also was outraged by the tampering on the part of Corporators. Now, the investigation officer, Executive Engineer of NMC's Water Works  Department  Azizureheman would submit report by including the objections of Urade, who, anticipated serious repercussions of tampering as no water supply or irregular supply to several areas of Nagpur city. He also suggested to stop such tampering in future.
It may be recalled the incident of tampering with main pipelines was reported from Shanti Nagar, Bhande Plot, Nandanvan, and Upplwadi areas few years ago. This tampering should also be investigated, demanded Urade.
Meanwhile, a disturbing fact was noticed when Hudkeshwar-Narsala areas were supplied water by diverting water from Mhalgi Nagar Water Tank which receives water from the Pench. The fact proved that water meant for North and East Nagpur areas is being diverted to other areas thus enraging the citizens of North and East Nagpur areas.