Prized tiger-cub click by Vidarbha wildlife lover to run on post stamp!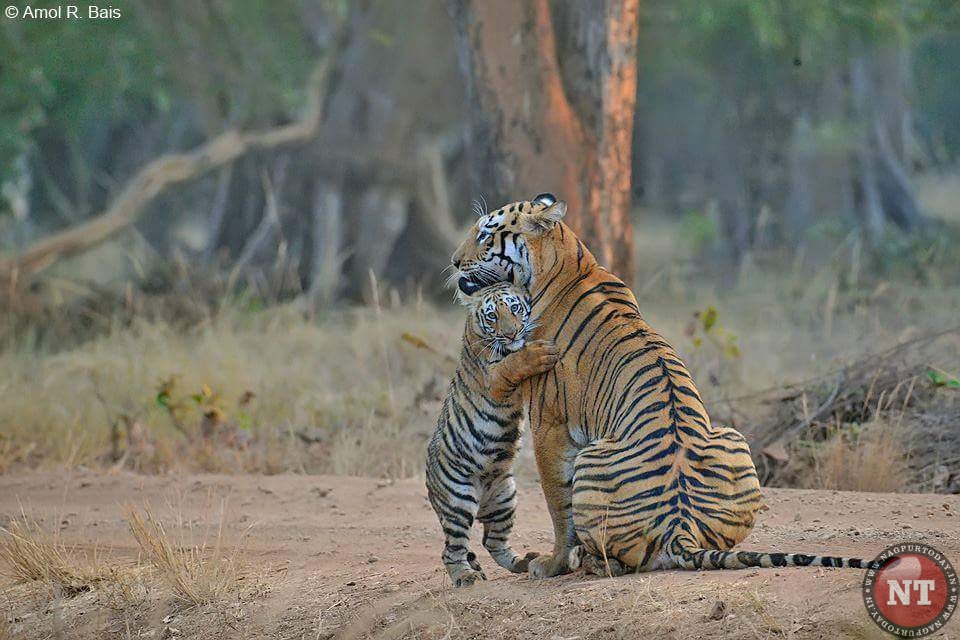 Nagpur: An amazing picture of a tigress caressing her cub in Pandharpauni forests in Tadoba-Andhari Tiger Reserve, captured by Amol Bais an avid Wild life enthusiasists from Nagpur, has now been picked up to be used on stamp tickets of India Post. In the picture the cub is seen cudding the tigress who has been fondly named as Maya. Similar picture has also been carried in UK's famed daily newspaper Mirror.
Bais is wildlife photographer and conservationist working for tribal upliftment and spreading awareness among the tribal people living inside and on the peripheral areas of tiger reserves and near wildlife sanctuaries in India.
Talking to Nagpur Today, Bais claimed that the picture will be printed into stamp tickets very soon. Strangely, no Indian newspaper or publication (other than Nagpur Today) has carried this prized click so far, he added.
He informed that he had captured this rare picture on January 1, 2016 while he was enroute his jungle safari in Pandharpauni
He said, "As tiger is on the apex of food chain, it has to be saved at any cost. Realising all this I am roaming all the forests of India and capturing their images exclusively in the wild."
Detailing on his worthy shot, he said, "I clicked this particular photograph in Tadoba-Andhari Tiger Reserve. On the first morning of January I certainly had no idea about what would be going to happen that morning. Maya the tigress ruling the Pandharpauni area of Tadoba Tiger Reserve was sighted alone on the main road that heads to Tadoba lake. She was in search of prey. She spotted some deer on the back of our gypsy vehicle. She was exactly in front of our vehicle. Deer were not that alert as Maya hid herself behind our gypsy. But soon the deer got alert as one of the deer from the group spotted her, they all fled away. She was bit disapointed. Maya then growled to call her cubs . One of the cubs came down to the road and hugged her mom just in front of our gypsy. It was a very rare sight and touched us from within. I was watching from my camera. It was unforgottable for me. I have been doing wildlife photography from 5 years and i have never seen such adorable moment ever in my life. The day I clicked this image posted it on Facebook. Since then I received lots of wishes and appreciation from across the world . This photograph has received 2.43 million likes 22 k comments and 25 k shares, so far."