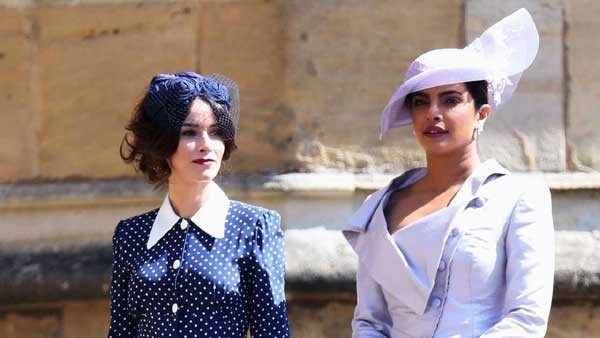 Actress Priyanka Chopra, who was among the guests at her friend and The Duchess of Sussex, Meghan Markle's marriage to Prince Harry, has shared few unseen photographs from the Royal wedding in which she can be seen alongside actor-TV host James Corden and Suits star Abigail Spencer.
Priyanka, who attended the wedding ceremony as well as the evening reception, captioned the images: "Bridal crew #squad."
In one group shot, she posed with the likes of James Corden and Harry and Meghan's friend Markus Anderson, who is very close to the couple.
She also shared an image of her posing for a selfie with Abigail Spencer. The two actresses arrived together at the wedding on May 19.
In another photograph, Priyanka posed arm-in-arm with Markus Anderson, who can be holding a card with some notes on it – prompting speculation that he made a speech during the reception.
Besides them, the Royal wedding was also attended by Oprah Winfrey, George and Amal Clooney, David and Victoria Beckham, Idris Elba, Elton John, Tom Hardy, James Corden, James Blunt, Carey Mulligan.
Tennis star Serena Williams and rugby star Jonny Wilkinson were also present.
Soon after the wedding, Priyanka jetted off to Dhaka, Bangladesh to visit the Rohingya refugee camps.