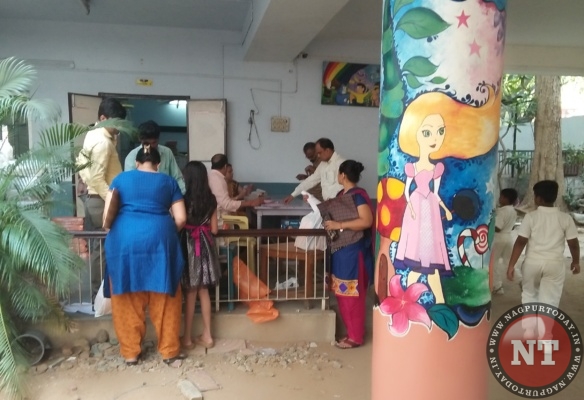 Nagpur: As the fresh educational session has commenced in many schools in Nagpur, the issue of fee hike and over-the-counter sale in school premises has once again raked up! Like every year, this year too most of the schools have overlooked the administrative orders not to sell the stationary items and uniforms in the school premises.
Despite the prohibitory orders, many top schools are being seen flouting the norms and functioning on their own whims and fancies. The reason – the schools very well know that parents will certainly not take the risk of complaining about the matter. Many schools in the city are taking advantage of this trend among parents and continue with their selling spree.
The Bhavan's Vidya Mandir at Civil Lines has emerged as the top defaulter in the list. The pictures available as evidence with Nagpur Today show that counters for sale of books are open in the school premises. The school authorities however excuse this glitch by coming up with flat reply saying that they were just facilitating parents.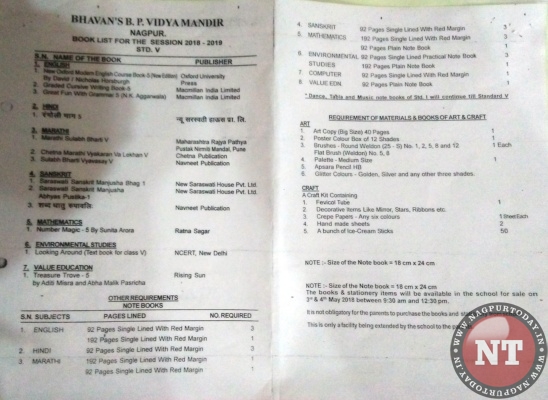 However, BVM, in its stationery list handed out to the students claims that it does not force students and parents to buy books and uniforms from school premises. On the contrary, the school has opened up the sale counters which indirectly 'force' parents to abide by the school's stricture or face the heat!
BVM is not the sole rule breaker! Another prominent school in town – Priyadarshini Nagpur Public School located at Old Bagadganj on Bhandara road has gone a step ahead. The school has openly displayed a notice in school premises regarding sale of books and uniforms. Guess what? The school has given a diktat to go for buying two sets of uniform on the ground of personal hygiene.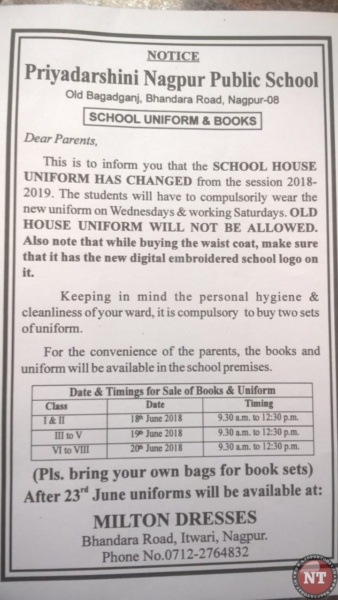 Priyadarshini Nagpur Public School authorities in their notice have specially mentioned the name of a shop called Milton Dresses located at Itwari.
Moreover, the school administration has smartly changed the house uniforms which has made it compulsory to buy new uniforms from the school.
Nagpur Today tried to contact the school education department authorities in this regard but none of them was available to speak up on this issue.