Pride, Honour and Patriotism personified during the Tribute to Sub Inspector K Prasad Babu at Prahar Military School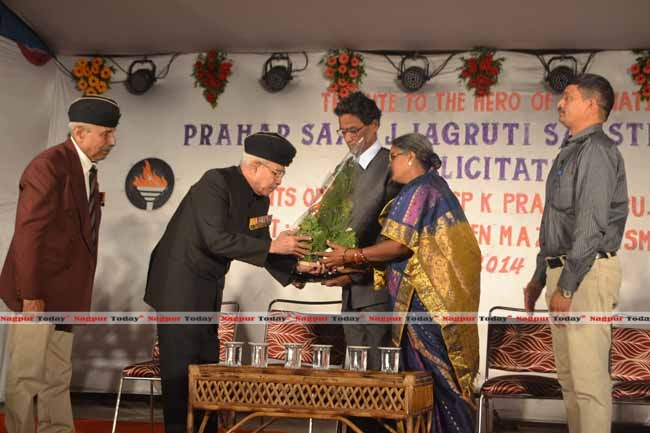 Nagpur News : In a noble gesture and in order to honour a brave martyr Sub Inspector K Prasad Babu who died in the line of fire while serving the nation in an anti-Naxal operation during which he had led an assault unit of Greyhounds (anti-Naxal force of Andhra Pradesh) near Andhra-Chhattisgarh border on April 16, 2013, Prahar Military School under led by Colonel Sunil Deshpande felicitated the parents of K Prasad Babu on March 2, 2014.
Earlier, the chief guest, guests and dignitaries garlanded the picture of Bharat Mata. A tribute to the fallen soldiers was paid by the Guests with laying of the wreath in front of the Inverted Rifle and Helmet.
After floral welcome of the guests, the programme which included a dance by the students of Prahar with youthful exuberance and vigour on the Hindi Movie number.
A sub-inspector of the Andhra Pradesh's counter-Maoist force Sub Inspector K Prasad Babu was posthumously awarded the Ashok Chakra, the highest peacetime gallantry award of the country, when India celebrated its 65th Republic Day.
His father Police Sub Inspector Karunam Venkatram and his wife who lost their son in the anti-Naxal operations were honoured and accorded due respect and invited to Prahar Military School. They were felicitated by Padmashree Lt General Mohamad Ahmed Zaki, PVSM, AVSM, Vir Chakra.
While addressing the audience that included retired high ranking and highly decorated officers of the Indian Army, Colonel Deshpande said that one often forgets the soldier who fights and dies for the nation. Only when the Kargil War was there or during the Independence Day or Republic Day does one remember the soldiers. A wave of patriotism is seen. Open arms to welcome the soldier, welfare measures, etc. are considered. However, Col. Deshpande rued that all this euphoria is seen or observed only for four days, after which they are forgotten. He said that the nation that remembers and honours the soldier is considered psycho-socio-economically well.
While expounding the valour with which Sub Inspector K Prasad Babu, Col. Deshpande equaled him to Baji Prabhu when he fought for Shivaji Maharaj. Col. Deshpande said that we as denizens should be inspired by his sacrifice. He claimed that Padmashree Lt General Mohamad Ahmed Zaki, PVSM, AVSM, Vir Chakra was his mentor, his guru and his teacher. He said that it is only because of him that he has achieved all his commendation and is where he has reached. He added that Lt. Gen. M A Zaki has instilled mental prowess and discipline among all his troupes and wherever he has served.
Padmashree Lt General Mohamad Ahmed Zaki, PVSM, AVSM, Vir Chakra, while addressing the audience, he said that he is proud that he served for 40 years for the Indian Army. However, he claimed that it was in 19 Maratha Light Infantry Battalion that he was trained and he is what he is because of a few people who trained him. He lauded Col. Deshpande for the school and said that he is happy to have served with very good officers like him. He added that Sub Inspector K Prasad Babu led the squad from the front like a brave and courageous officer. He said that one should never look back, once they have started to fight the enemies.
The father of Sub Inspector K Prasad Babu Police Sub Inspector Karunam Venkatram while addressing the audience in his native tongue Telegu, said that It took me 33 years to rear one son and make him a soldier, but Colonel Deshpande is making 300 students every year, which is remarkable and for which he salutes him. He claimed that K Prasad Babu always wanted to serve in the police department like his father against the wishes of his sister and his brother-in-law, who had accompanied his parents. He also added that everybody should send their children to the army to fight for the nation.
The programme had Vishaka Mande singing the Hindi patriotic song sung by Lata Mangeshkar, "Jara Yad Karo Kurbani"
The programme ended with the National Anthem.