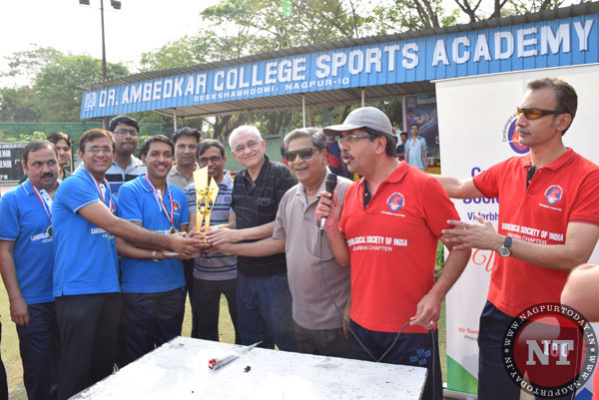 Cardiological Society of India, (CSI) Vidarbha Chapter, had organized a Cricket Tournament between President's Eleven versus Past President's Eleven on Sunday at Dr. Babasaheb Ambedkar Sports Academy play ground, Deeksha Bhoomi, Laxminagar Nagpur on Sunday 4-3-18 early Morning from 6-30 a.m. to 9.30 a. m. with Great Spirit and
enthusiasm.
President's XI team won the toss and Decided to field first President's XI with CSI President Dr. Sunil Washimkar as Captain won the Match with 93 in 15 overs, for loss of 7 wickets and was awarded Trophy at the hands of Dr. Prashant Jagtap, Dr. Mukund Deshpande and Dr. Aziz Khan. The past President's XI gave them a tough fight. (68 run, all out in 14 overs). They were awarded Runners trophy.
Best Bowler Dr. Sunil Washimkar, Best Fielder & the Match Man of Dr. Anil Jawahirani, Best Batsman Dr. Awinash Sharma were also awarded gold medals. Dr. Sanjay Deotale gave running Commentary. Dr. Washimkar in his President's XI had Dr. Avinash Sharma vice Captain, Dr. Anil Jawahirani, Dr. Girish Deshpande, Dr. Pushkaraj Gadkari, Dr. Deepak Sane, Dr. Sanjay Gidhwani, Dr. Sandeep Chaurasia, Der. Nikunj Pawar, Dr. Gajendra Manakshe, Dr. Amol Meshram, Dr. Amit Kinnare, Dr. Atul Rajput, Dr. Ashlesh Tiwari.
Past President's XI with Dr. Vinod Khandait as Captain and Dr. Mahesh Fulwani as Vice Captain had Dr. Shantanu Sengupta, Dr. Nitin Tiwari, Dr. Dr. Atchut Khandekar, Dr. Abhishek Pande, Dr. Anand Sancheti, Dr. Pankaj Harkut. Dr. Sandeep Khanzode, Dr. Nitin Wadaskar, Dr. Surya Prakash Aswa. Dr. Saurabh Varshney., Dr. Nirmal Jaiswal, Dr. Isrshad Pathan.
Dr. Sunil Washimkar President and Dr. Anil Jawahirani Secretary, CSI, thanked every member who participated and watched the game and all supporting staff for their contribution.