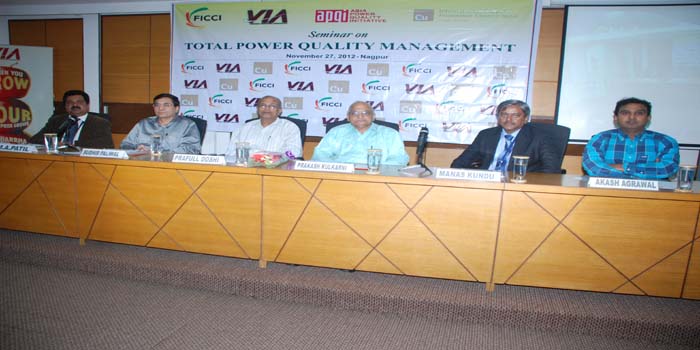 Nagpur News : "Power Quality" issue is a great concern for Industry in this competitive scenario said Prakash Kulkarni, President  Institute of Engineers Nagpur Chapter in his address at the Seminar held today at VIA Hall.
Prakash Kulkarni was delivering the inaugural address at a seminar on Total Power Quality Management ' organized by FICCI, ICPCI in association with VIA under the umbrella of Asia Power Quality Initiative [APQI].
Elaborating on the subject Kulkarni said that in today's competitive environment for industries Quality is not expensive but is priceless. Input Quality of raw material like power can affect output quality of industry causing huge economic loss. Three 'A's  are required – Adequacy, Assurance and Affordability.  Utility under customer centric electricity environment after Electricity Act 2003, can no more overlook these aspects. Therefore power quality assumes significant importance. It cannot be any more acceptable in favour of poor power quality even if there is inadequacy.
While utilities are under obligation to observe standards of performance and electricity supply code provisions under E.A. 2003 domestic equipment manufacturers must also rise up to the occasion to produce quality equipments that stands the test of time and creates a good power quality environment. Concluding his address he said – "Yesterday is a cancelled Cheque, Tomorrow is a promissory Note but Today is Cash". Therefore we must set out on our journey to better power quality environment, while we aspire to be a developed economy.
Sudir Paliwal, Chairman VIA Science & Technology Forum in his address mentioned that power is an essential element for growth. The importance of conservation and acquisition of distributed generation including Non Conventional resources are essential in today's scenario. However, addition of conventional capacity cannot be the only way to address the hunger for power by a developing economy. According to integrated energy policy India might need 700,000 MW power by 2030. But fossil fuel based capacity addition can be a challenge for the environment and our quality of life. Therefore, he underscored the importance of effective utilization of power in a quality conscious environment.
Speaking on the occasion Manas Kundu, Director, International Copper Promotion Council, India, and APQI India coordinator.said poor quality of the electricity supply from the grid causes not only significant problems in internal electrical distribution systems in manufacturing industries but also buildings, by disrupting the functioning of electrical and electronic devices. Such pollutants are known as over/under voltage over or under frequency, harmonics, electromagnetic interference (EMI), voltage flicker,  etc.
Further, Such unusual phenomena in the electrical systems can cause equipment tripping, overheating of transformers, switch gears, cables etc. and result in electrical failure or system breakdown.  The financial loss due to poor power quality are estimated at more than 150 billion euros per year among industry and commerce in Europe said Manas Kundu. Unfortunately we are yet to arise our economic loss due to poor power quality.
Earlier Prafull Doshi President VIA delivered the welcome address and M A Patil Director FICCI moderated the inaugural session and proposed a vote of thanks.
This was followed by three technical sessions. In the first session on "Overview of Total Power Quality phenomenou Management", Manas Kundu of ICPCI spoke on Power Quality cause and effects, , and SP Kalambe, CPRI Nagpur, on behalf of BH Narayana dealt with Power Quality based performance evaluation of distribution net work. Dr. B P Bhoyar Reliance Industries Limited Chaired the session.
The second session  on PQ issues in Industries chaired by DR Mohan Aware,of VNIT and the eminent speakers were  P Sridharan from Fluke on "Power Quality Measurement beyond harmonics", R Sivaraman of Jef Techno solutions Pvt Ltd on "Need for effective Grounding" and Jignesh Patel of Amtech Electronics spoke on "Active Harmonic Filtration".
The concluding session of the full days porgramme was on PQ Disturbances in daily life/Mitigation Techniques was chaired by BH Narayana Addl. Director and unit head CPRI, Koradi and the participants were Rahul More of Cyronics,   on "Managing PQ-Role of Metering", Mathew George of Emerson Network Power on "Harmonic Filtering – solutions and benefits", Dr Mohan Aware of VNIT dealt on  "Mitigation using STATCOM and BESS".
All the sessions witnessed a very interesting question answer session in which the eminent speakers gave very fruitful insights to the queries raised by the participants.
Today's seminar was one such attempt on countrywide capacity building effort carried out by ICPCI, FICCI and VIA under APQI banner. The programme was well attended.