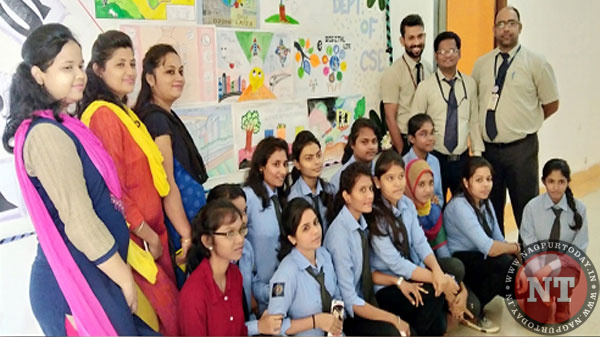 Nagpur: Poster Competition for vision of developed India in 2025 was organized at Vidarbha Institute Of Technology (VIT). The student of Computer Science branch of had showed their creativity and sketched their imaginations & emotions during a poster competition held in Computer Department.
The topic that was given to them for the construction of poster was "Dream of Developed India (2025)". There were around 15 creatively designed posters that were inaugurated and judged by Principal Dr.Sanjay Uttarwar.On the said occasion he shared his views regarding optimistic vision in life.
The image that we see immediately activates sub-cautious mind as proven by medical science. It is the reason why most of us remember faces of people rather their names. The idea of drawing or painting your natural thoughts is in the gene of human being and is practice from an ancient time. Giving different shades, giving different colors to a feeling is like reflecting your imagination on paper.
Art and craft activities have always been a favored medium to stimulate and develop creativity within students. Poster making and poster presentation is one such activity that is common in many classrooms. A poster speaks for itself; the presence of its author is not necessary.
Mr.Jitesh.N.Maheshwari Chairman,VIT, Dr.Pooja Maheshwari Secretary, VIT along with Dr.G.S.Natrajan Director, VIT, appreciate the students of VIT, Dr.Sanjay Uttarwar Principal, said, "I found it very difficult to judge the art of students, as all of them had done remarkable job".