Nagpur News: Compassion can be found in all the strange places from total strangers at all the right time. What happened in Government Medical College and Hospital was a testimony to exactly that. Usually the Private Ambulance Drivers parked inside the campus of GMCH are alleged to drive patients away from there and take them to private hospitals where they get a commission for bringing patients. They are known to fleece patients to ferry them home or in bringing them to the hospital.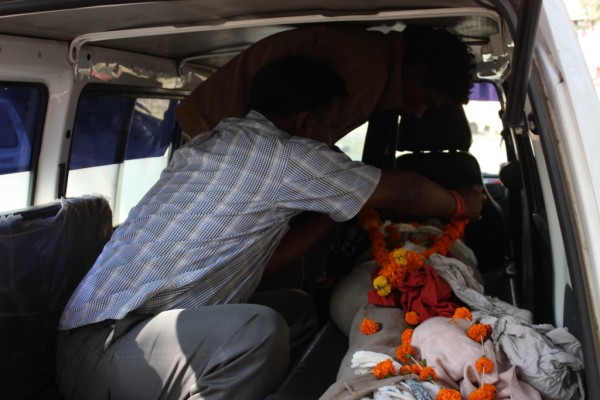 But what a group of Ambulance drivers did on November 25 moved many onlookers to tears. It all started when 8 days ago, a couple came from Yerla village in Yavatmal to GMCH for treatment of the wife. The husband named Jitru Baburao Anjikar and the wife named Suman Jitru Anjikar. Suman is alleged to have a cancerous growth in her stomach. She was admitted in Ward No 22 and undergoing treatment.
On November 24, 2013, at 07:30 pm the doctors declared her dead. The husband Jitru Baburao Anjikar who was with her round the clock taking care of her for the past 8 days was shattered. Jitru just could not digest the fact that his life partner had passed away. Jitru could not think what to do and what not to do. Eyewitnesses said that he was behaving like a madman not in his senses. Jitru laughed and cried alternately.
The ambulance drivers who assemble everyday are keen observers. They somehow know who is a local and who is an outsider. They had observed that this man used to take food and tea every day morning and evening to the ward. When they saw him behaving in this manner, they confronted him and asked him what happened. He was not even in a position to say anything. These ambulance drivers went to the ward and inquired there and found that his wife had been declared dead.
These ambulance drivers then asked him if he wanted to take the dead body of his wife to his home town. Jitru vehemently said that why should he take her there. Jitru added that both of them do not have anyone else in their family. Both had each other only as relatives. That justified why the man was shattered. The only person whom he could call his own and one who loved him and one whom he loved had passed away.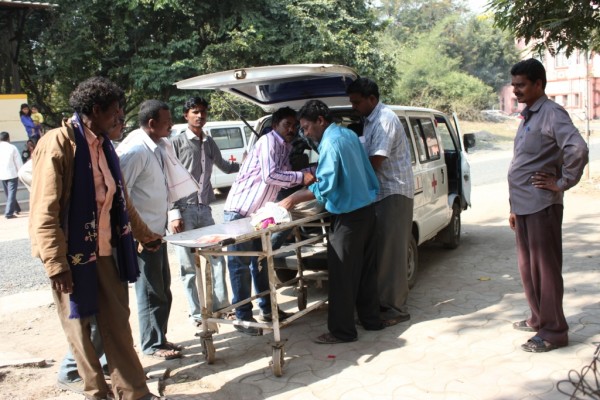 Compassion dawned on the otherwise ruffians and rude looking ambulance drivers. They spoke among themselves and even with the cops in the newly opened police post. The police personnel, ambulance drivers, and other benevolent people collected around Rs 3000:00. They then brought the dead body of the wife out of the mortuary. Got her packed neatly. They then asked him to accompany them in an ambulance. They took him to Gangabai Ghat and accorded a decent funeral to Suman. Their good deed did not end there. They took him to the main stand. They purchased a bus ticket for Yerda village in Yavatmal for Jitru made sure that he is seated comfortably. They gave the remaining money (the balance after spending money on funeral arrangements) to him. They took some money from it and gave it to the conductor as requested him to feed the bereaved husband with food and tea wherever the bus stops for refreshments.
The otherwise lively ambulance drivers had a very somber look and everybody left for their residence earlier than usual.
The benevolent ambulance drivers include, Sudhir Shyamkuwar, Nehmad Khureshi, Vijay Nagdive, Akash Khumbalkar, Vicky Gaikwad, Deepak Baisware, Golu and Hemant.