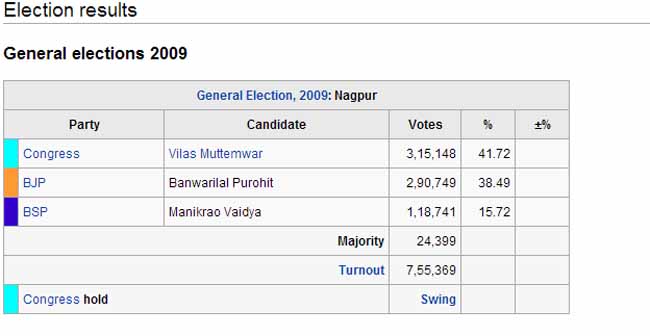 Nagpur News.
As the time for announcement of upcoming Lok Sabha elections inches closer, the heat for the seat has soared poll temperature among various political parties who have kicked off their procedure.
While the names of Nitin Gadkari and Vilas Muttemwar as prospective candidates from BJP and Congress, respectively, have emerged out of the closet, a new entrant has also been the topic of discussion these days. Ex corporator and former Standing Committee Chairman Abdul Ghani Khan also appeared to be in the poll race as probable BSP candidate. Though Congress and BJP are foremost in this political race, but people are also rooting for BSP and AAP, which would make the forthcoming elections a close contest.
Cong, BJP power packed
Congress and BJP's prospective candidates Nitin Gadkari and Vilas Muttemwar are capable enough in terms of money and power, the BSP and AAP remarkably lack in both. Both the parties need a face for public and strong leadership to lead the elections. Though BSP has a strong number of party men it lacks on monetary front whereas AAP falls short of numbers of party workers. AAP has already cleared its agenda that candidates aspiring to work for the betterment of society will be given priority than those who have strong financial status.
BSP eyeing Muslim, dalit votes
BSP has always followed the strategy to focus on dalit and Muslim voters. Sources informed that BSP has approached Abdul Ghani Khan and discussed the issue. There are 3 lakh dalit voters and around 4.5 lakh Muslim voters in the city and if BSP picks up a Muslim candidate for Lok Sabha elections, then it is likely to pocket those community specific votes. Khan however is in a fix to decide whether to invest Rs 2-2.5 crore in the elections as BSP candidate or extend formal or informal to support to Congress, BJP or AAP. Political experts say that numbers will play a vital role in the upcoming elections and political scenario will change if Ghani Khan manages to secure even 50% of the votes.
Many in fray for AAP ticket
As regards AAP, a survey team SL Group has been reviewing the authentic AAP candidates and has come up with a list of capable candidates. Many names are going around in Nagpur which includes prominent doctors, businessman, social activists etc.  The names include, social worker and senior journalist Umesh Choubey, paediatrician Dr Uday Bodhankar, Ramesh Mantri, Sanesh Wakudkar, Raju Bhai Tank, Dipen Agrawal, Sandeep Agrawal, Urmila Agrawal, Avinash Dorsatwar, Asif Qureshi, Abdul Ghani Khan, Chandrakant Wankhede, etc. It is also learned that AAP has approached Son of  Former MP and Owner of renowned Media House in Nagpur too. The authenticity of this survey is under scanner though. However, it is interesting to learn that AAP activists have not come forward in open. They have failed to register their existence among the masses which could go against them in the forthcoming elections. But, the partymen have cleared that their candidate could be financial weak but people with clean image would get priority in the party.