Politics or genuine issues, why MIDC does not want to spare money for Nagpur-Mumbai e way?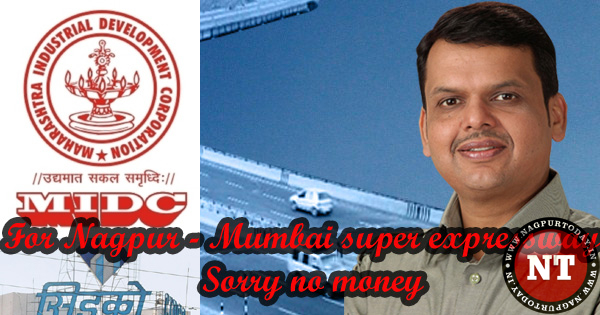 Nagpur/Mumbai: First it was CIDCO, the Maharashtra Industrial Development Corporation, now it is MIDC that is saying that it does not have the stipulated Rs. 1000 crores to spare for the C.M.'s ambitious Nagpur – Mumbai super expressway.
The 710-km eight-lane expressway is expected to cut travel time between Mumbai and Nagpur by half from around 16 hours to eight hours. Last month, the state government had asked its five cash-rich bodies MMRDA, MHADA, CIDCO, SRA and MIDC – for a loan of Rs 1,000-crore each to MSRDC for the project.
Politics , of course, seems to be at the heart of this " cash crunch". MIDC is controlled by the industries ministry which is headed by Subhash Desai of the Shiv Sena, a party that is supporting the farmers' agitation against land acquisition for the Samruddhi Corridor. Desai told newspaper, Mumbai Mirror that MIDC would prefer to use the money for other purposes, saying, "The MSRDC is developing some industrial townships along the Samruddhi Corridor. We would like to undertake one such project instead of giving the money on loan."
CIDCO, the planning authority for Navi Mumbai, said earlier this month that it could only spare one-fifth the amount the government wanted as it had its own commitments, such as the Navi Mumbai International Airport, Nerul-Uran railway line and Navi Mumbai Metro to name a few.
Regarding the unwillingness of the two bodies to shell out the loan, MSRDC's joint managing director Kiran Kurundkar said, "The MMRDA, MHADA and SRA have already contributed funds for the project. We are in talks with the others and it's a process, it takes time to materialise. But no corporation's board has passed a resolution showing its unwillingness to give Rs 1,000 crore loan to us."
Kurundkar, however, is not worried about getting funds for the project. "We have an excellent track record of repayment, so there will no issues in raising funds for the project. We had repaid MMRDA's loan taken for constructing Mumbai's fly overs ahead of time," he said.
The road authority is also exploring the option of monetising 1,000 acres of its land, which includes land parcels at Napean Sea Road and Bandra. The approximate value of this property is around Rs 7,500 crore. MSRDC has also suggested putting a surcharge on the sale of petrol and diesel in the 10 districts through which the Expressway will run.
It does seem like this project of a super highway seems to be meeting with too many road blocks and 'speed breakers' even before work on building it can commence!