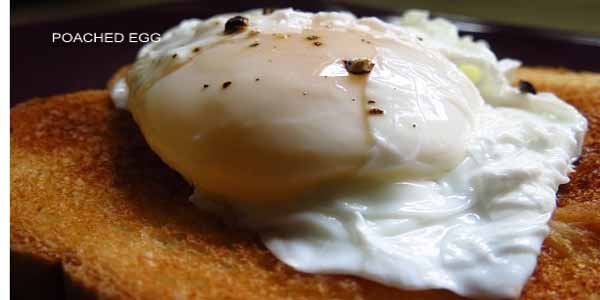 Poached egg is made by cooking the eggs in simmering liquid. The eggs whites are cooked by the hot liquid and forms a coating around the partiaally cooked runny yolk. Poached eggs can be enjoyed over a toast. It can also be served over artichoke, portabello mushroom or english muffins. Some famous recipes using poached eggs are Eggs Benedict, Eggs Florentine and Eggs Mornay. In South Indian cuisine, Poached Egg Kurma is commonly made and enjoyed with south indian tiffin varieties.
Ingredients
Eggs
Water
Vineger (optional)
Method
1. Take a wide shallow pan. Add enough water to cover the eggs and bring it to a boil.
2. Reduce the flame so that the water is simmering. Add just a splash of vineger to this. This is optional but will help the egg whites to coagulate faster.
3. In the meantime, break the eggs into a small individual bowls.
4. Carefully slide the eggs into the simmering water. Gently push the egg whites towards the yolks.
5. Slide all the eggs with enough space between them. Switch off and cover with a lid.
6. Let the eggs cook in the hot water for 3-4 minutes till the egg whites become firm. Do not overcook. The yolks have to be runny. The time depends on the number of eggs.
7. Remove with a slotted spoon and serve immediately. If not, transfer to a bowl of cold water. This will stop the cooking process. You can reheat later by putting the eggs in a bowl of hot water.
8. Sprinkle some salt and pepper and enjoy on a piece of toast.