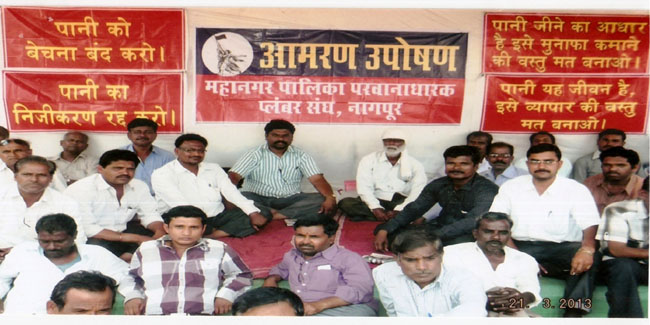 Nagpur News: The organization of authorized plumbers of Nagpur Municipal Corporation observing hunger strike at RBI square in the city has entered fifth day of their agitation on Monday. However, till date no NMC official has come up with any assurance nor did they fulfilled any assurance previously made.
The association's president Sheshrao Patil and secretary Shankar Mourya have raised series of demands that include ensuring licensed plumbers' role in 24×7 water supply scheme in the city, registration of authorized plumbers under Nagpur Environment Services Limited, right to renew license of plumbers and deciding their wages be vested with NMC, legalize illegal tap connections through licensed plumbers, and abolishing the compulsion of court fee and agreement ticket for new connections.
On Friday, water supply committee's former president Sudhakar Kohle visited the striking plumbers but he could not do much about that.
Ironically, even after five days not a single NMC official came to seek well being of the plumbers who had successfully executed water supply across the city for many years. The water supply department has brought these plumbers under private entity, reportedly the prime reason behind their agitation.