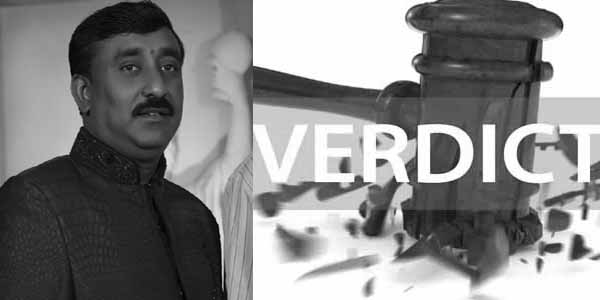 Nagpur News.
The Nagpur Bench of Bombay High Court has granted bail to one of the convicts in Pintu Shirke murder case.
The convict Raju Bhadre had moved the High Court for granting bail to him. Adv Subodh Dharmadhikari, representing Raju Bhadre, put up his petition for bail before Justice Bhushan Gavai. Adv Dharmadhikari, in his petition on behalf of client Raju Bhadre, argued for favour of the Court in granting bail to the convict.
After hearing the points raised by Adv Dharmadhikari, Justice Bhushan Gavai suspended the sentence and ordered conditional bail to Raju Bhadre on providing Surety Bond of Rs 50 Thousand. The final appeal will be decided in the next hearing.
According to sources, Raju Bhadre is likely to remit the Surety Bond of Rs 50,000 tomorrow (January 21). Once the formalities are completed, the convict will be released from the jail.
It may be recalled, Pintu Shirke was murdered in the court premises in 2002. Eight people, including Raju Bhadre, were convicted on the charges of murder and were sentenced to life imprisonment while seven others were acquitted for lack of strong evidence against them.
Those awarded life imprisonment include Raju Bhadre, Vijay Mate, Kiran Kaithe, Dinesh Gayaki, Ritesh Gawande, Ayub Khan, Umesh Dahake and Kamlesh Nimbarte.
Those who were acquitted include Maruti Nauwa, Panjdurang Kinjewar, Mahesh Bante, Rajesh Kadu, Mayur Chavan, his brother Mangesh Chavan and Sandeep Sanak.
Pintu Shirke was brutally murdered on the sixth floor of District and Sessions Court building on February 11, 2002 following a land dispute. Cops arrested few goons involved in the murder on the spot while others were held during investigations. Pintu, who was involved in some petty crimes, was brutally killed with swords and other sharp-edged weapons in the court premises. The then Investigating Officer Vijay Swami submitted his report on September 8, 2002 and the then Deputy Commissioner of Police Harish Parshionikar had filed the chargesheet in the court. Out of the 16 accused, one accused passed away during the trial.