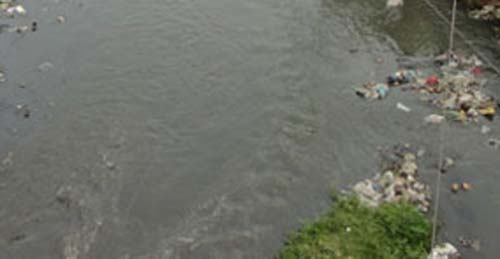 Nagpur News: The Congress party leaders, red-faced by Bharatiya Janata Party (BJP) ruled NMC's decision to launch "Mission Nag River Cleaning" which may benefit the BJP in the upcoming Lok Sabha polls, have launched a scathing attack on BJP blaming the party for neglecting the cleaning of  Pili Nadi and sewer lines and only taking the cleansing and beautification of only Nag Nadi. The Congress leaders, to counter the BJP-ruled NMC, have decided to prepare a strategy for launching campaign on Friday for cleaning and beautifying the Pili Nadi which at present turned a "Black River" due to enormous pollution, garbage of all sorts and the most important the negligence.
The mass support for "Mission Nag River Cleaning" by the group of newspapers in the city and an excitement in massive number of BJP supporters has made the Congress leaders more angry and they are seeing the mass support for the "Mission Nag River Cleaning" as rubbing the salt to their injuries.
The Congress campaign will begin from Vandevi Bridge in North Nagpur. A crucial meeting was held on April 24 before the beginning of the campaign. The leaders present at the meeting were former Corporator Khushal Hedao, Krishnakumar Pandey, Ratnakar Jaipurkar, Sanjay Dube, Dharamkumar Patil, Mangalwari Zone Chairman Suresh Jaggyasi, Mahendra Borkar, Bhavna Lonare, Kunal Raut, the General Secretary of State Youth Congress, and others.
The leader of the campaign Hedao informed the source of Pili Nadi from Gorewada. The river traverses from Gorewada to Nara, Nari, Vanjara, Vanjari, Kalamana and meets to Kanhan River. The residents of Pili Nadi shores have connected the sewer lines to Pili Nadi that is why the river has turned black, he lamented. People used to drink water of Pili Nadi till 1983. He said the BJP is ruling the NMC since 1997 and have won the elections thrice but the party never cared to clean the Pili Nadi. He charged BJP for making a provision in the budget for only Nag Nadi mission. They could have made a provision for Pili Nadi also.
Now, the Congress leaders are launching a campaign for cleansing of Pili Nadi from Friday. (April 26). They have warned that if the NMC does not help them then they will protest in front of Nitin Gadkari's residence and also at NMC Head Office. The offices of NMC zones from where the Pili Nadi passes will be locked. And if the NMC again neglects the river, no meetings BJP leaders would be allowed to take place in North Nagpur.