PIET received grant worth Rs. 25.200Euros for Jean Monnet course Module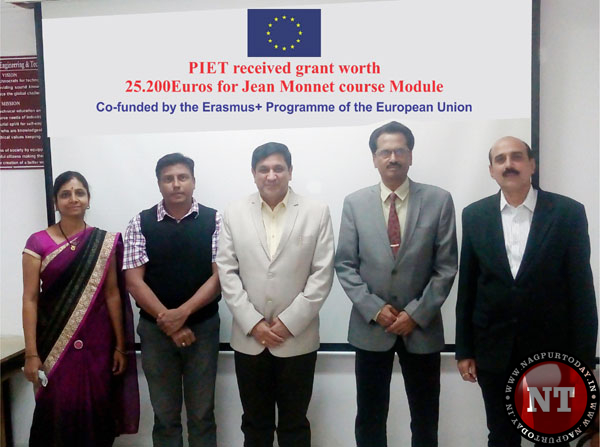 Nagpur: Priyadarshini Institute of Engineering & Technology run by Lokmanya Tilak Jankalyan Shikshan Sanstha (LTJSS) has recently received a grant of Rs 18 Lakh for conducting Jean Monnet course Module at PIET campus. The grant is funded by European Commission for Education, Audiovisual and Culture Executive Agency. The module entitled 'Impact of fake news on recent European Union Politics' would be conducted free of cost at PIET campus for graduates from any stream from April 1, 2018. The course comprises of 100 hrs and would be conducted on weekends for 2hrs per day. The teaching would be imparted by eminent scholars, academics and journalists. The objective of the course is to make the people aware of social, psychological and political impact of spreading and trusting fake news. A conference will also be organised on the same theme on 12th and 13th March, 2018 in PIET campus.
Principal of the institute Dr. Vivek Nanoti is the academic coordinator of the module. Dr. Bhumika Agrawal is the project coordinator who had prepared exhaustive report of the project module. Dr. Sadanand Deshpande is the legal entity appointed representative for Jean Monnet course module. Dr. G. M. Aasutkar and Dr. R.L. Himte took the follow up of the project. Dr Vivek Nanoti and his team has urged the graduates to enrich their profiles by registering themselves for this course. Chairman of LTJSS Dr. Satish Chaturdevi, Secretary Abha Chaturdevi and Director, Governing body Dushyant Chaturdevi and Director Mr. Abhijeet Deshmukh congratulated PIET for this grant and wished them for the successful conduction of the course.