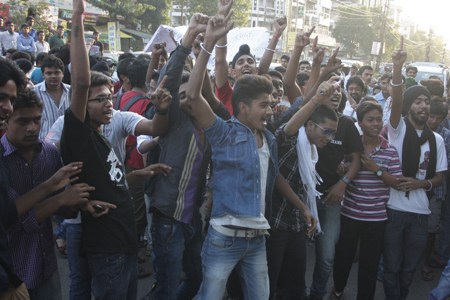 Nagpur News: Std XII students heaved a sigh of relief when Maharashtra State Board of Secondary and Higher Secondary Education issued a notification Std XII students need to pass the examination with minimum of 25 percent as proposed earlier.
Std XII Students were in stress regarding 'out of syllabus' paper of Physics. But the notification issued on Saturday has finally brought a smile on their faces. MSBSHSE issued notification that students will now have to score a total of 35 marks out of 100 collectively in practical and written to clear the examination. Earlier, percentage to clear written examination was proposed to 25%.
Sarjerao jadhav, Chairperson, State Board, said that after the change in the curriculum, a proposal was sent to the State Government seeking compulsory passing in theory examination with 25 percent marks. "This proposal is yet to be passed by the Government. Therefore, for this batch of students, the rule is not applicable. As students were confused about it, we have issued an official notification," sadi Jadhav. Adding further, he said, a student who scored only 10 marks in theory paper but 25 marks in practical could pass the examination.
The move has come as a relief to many students who thought the physics paper was not only lengthy but also very tough. "The syllabus was vast. For weak students, who believed that they could have failed the exam, this move will definitely be a relief. The move will not make much difference to bright students as they are not just concerned about passing the exam, but about scoring well for competitive exams," said a student from the western suburbs.