Cops recover CCTV footage of theft

Nagpur Today.
A petty thief who probably had accomplices target the office of Dewani Associates and stole valuables worth Rs 75,000 from their office. The Sadar police have recovered a CCTV footage of the theft.
In the wee hours of Wednesday, a burglary took place in the located at Block No 6, NADT Building opposite to Liberty Talkies, the police said. The unidentified thief gained entry into the office Dewani Associates' office through a small ladder attached with the hoarding very close to the Building. He must have climbed down from the roof gained entry to the toilet, broke the water taps in order to steal quick selling goods. He then broke the locks of many doors on the floor with a small iron rod. He even picked up the latches and collected it in a gunny bag. After gaining entry to the Devani's premises, the thief stole an LCD TV, two DVD players, a laptop, silver idols of Sai Baba and Lord Ganesha and other valuables collectively worth Rs 75,000. The thief also attempted to loot the main offices situated in the same building but could not succeed. The information was given by the complainant Amit Uttam Aney, Brother-in-law of Adv Shyam Dewani to Nagpur Today.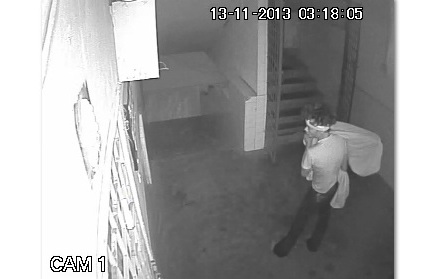 However, his deeds were caught on the CCTV cameras installed in the building. When the police officials from Sadar Police Station were investigating, the building administration handed over the footage. The police officials have started investigations in this regard.
The burgled office belonged to Adv Shyam Dewani. The cameras caught the thief consuming liquor in the office and then laying his hands on valuables. He also tried to other office rooms too, but could not succeed.
A team from Sadar police station reached the crime scene and performed the panchanama. The investigating office PI Rajratan Bansod informed that the thief had damaged electronics gadgets of offices in an attempt to steal valuables.
On the complaint of Adv Dewani, the cops had registered a case under Sections 427, 380 and 457 of the IPC and have started the investigations.