Nagpur: Even as entire nation including aapla Nagpur is set to grace Nag Panchmi which is falling on 15th August this year, animal rights activist have once again come out to aware people against cruelty to snakes. It may be mentioned that as per Hindu mythology snakes are believed to be divine creatures associated with Lord Shiva and worshipped on the Nag Panchami.
Taking the ritual into account, People for Ethical Treatment to Animals (PETA), India have appealed for being sensible to the wild creature. PETA has also carried out a sign reading 'Be Kind to Snakes, Have a Cruelty-free Nag Panchami' at Samvidhan Chowk on Monday where two volunteers were dressed and painted to resemble snakes. The motive was to remind the commuters that the animals experience pain and illness when they are deprived of their natural food and are force-fed the cow milk during festival celebrations.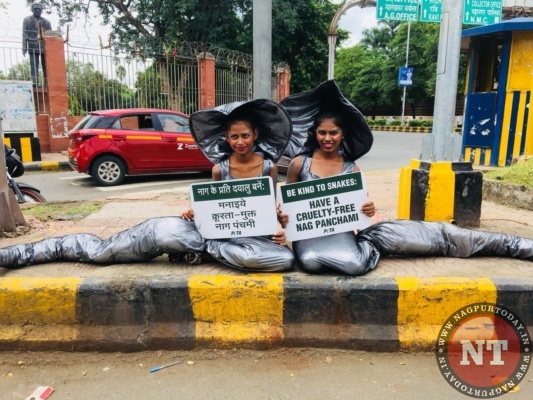 "The best way to honor snakes is to let them live free in their natural habitats during Nag Panchami' said Radhika Suryavanshi PETA, India.
'PETA India is calling on residents to spare snakes the terror and misery of capture, confinement and potential death by holding snake free celebration'. As many snakes which are captured during the festival die a horrible death.