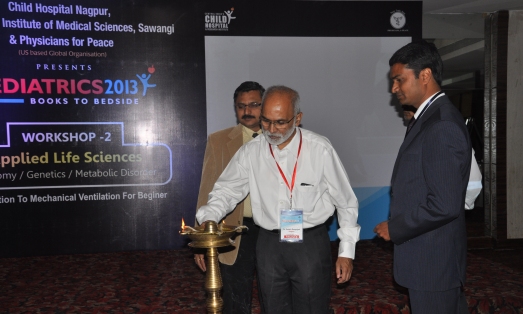 Nagpur News:
Eminent authors from world famous medical books,' Nelson text book of pediatrics' Zimmeran text book of pediatrics ' Goldsmith text book of neonatal' considered Bible in the field of Pediatrics kick start  day 1 of 'Pediatrics 2013-Books to bedside' conference underway at Hotel Centre Point. The 3 day event one of its kind and a very unique event is organized by Central India's Child Hospital & Research institute, Physicians for peace institute, USA and Datta Meghe institute of medical sciences, Nagpur.
Day 1 Thursday was totally dedicated to a Pre-conference Workshop on advanced mechanical Ventilation & Pediatric critical (session 1) , Applied Life sciences: Anatomy/ Genetics / Disorder(session 2) by Dr. Anil Jalan, Dr D. K. Chopde and Introduction to mechanical Ventilation for Beginners (session 3).
First time in India an indigenous simulator first of its kind was showcased by Eminent Dr. Satish Deopujari of Child Hospital. Around 200 pediatricians from India attended the advanced Mechanical ventilation session. 100 Pediatricians were in applied life sciences and mechanical ventilation for beginners session.
The Sessions saw' hands on training' on a world's finest simulator which is cost around 6 crore. The International faculty Dr. Robert Diblassi gave lecture on inhalation therapy on ventilator .  Dr. Zimmermann explained about how to manage refractory hypoxemia on conventional ventilation and difficult weaning- tricks  of trait. Dr. Christopher Foley and Dr. Chandrashker fande lectured on Transpulmonary pressure monitoring.
Sessions on inhaled gas, ECMO, High Frequency Ventilator, Newer modes, non invasive ventilator, Newer modes, non invasive ventilator, Physiology of Ventilation with  One to one talk with the Professors.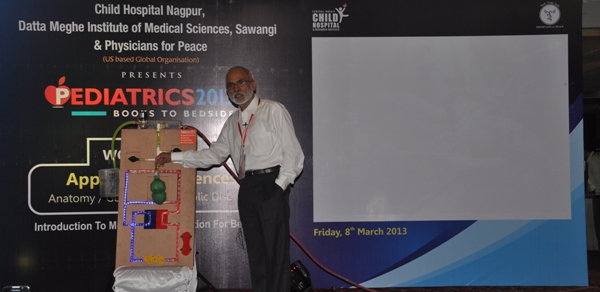 While speaking with 'NagpurToday' Dr. Satish Deopujari,organizing Chairman said  " the concept of the conference emphasizes Physicians for peace. Most of the them are from all over the world. They have used bedside in order to emphasize cause of children. The work shop of this nature is organized first time in the country.the simulator brought here is first of its kind and has never been operated in the country." He added.
Also talking to 'NagpurToday'  Dr. Sanjay B Deshmukh, said, " first timen in Nagpur international and national faculty will have interaction from critical care to basic pediatric care for practicing pediatricians in interactive session over three day's.
A Public forum 'Death of child ' a programme where public where participation has been scheduled will be held on Friday march 9 at 4.30 pm. Dr. Satish Deopujari  said , " that the cases of attack on doctors are on rise especially due to the death of the patients. Many times, doctors are not at fault. Still, they become the victims. The title of this forum is death of a child : Journey from white apron to bullet proof apron.