'Jhanda Geet' event was organised in Nagpur as part of 'Azadi Ka Amrit Mahotsav' and to mark birth anniversary of Netaji Subhash Chandra Bose and Shyamlal Gupt, composer of the song
Nagpur: The atmosphere in the Orange City turned patriotic as the inspiring song 'Vijayi Vishwa Tiranga Pyaara, Jhanda Uncha Rahe Hamara…' reverberated across Nagpur on Sunday.
The Nagpur Municipal Corporation (NMC), Khadi Gramodyog Commission, and Khasdar Sanskrutik Mahotsav Samiti jointly organised the mass recital of 'Jhanda Geet' at 125 locations in the city as part of 'Azadi Ka Amrit Mahotsav' and also to mark birth anniversary of Netaji Subhash Chandra Bose and Shyamlal Gupt 'Paarshad', composer of 'Jhanda Geet'.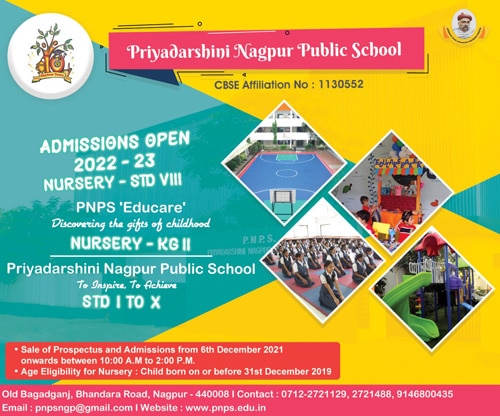 The Union Minister Nitin Gadkari, on the occasion said, "Many people made the supreme sacrifice to win freedom for India. However, the younger generation is still not aware of it. Shyamlal Gupt 'Paarshad' made a wonderful contribution in kindling the spirit of Independence among masses through his immortal 'Jhanda Geet'. This event is a great effort to establish a strong connection between the history of India's freedom struggle and the younger generation."
Gadkari was speaking at the main event at SamvidhanSquare. He stressed upon making mass awareness of India's glorious history a people's movement. Devendra Fadnavis, Leader of Opposition (Assembly); Dayashankar Tiwari, Mayor; Dr Vikas Mahatme, Rajya Sabha Member; Vikas Kumbhare, MLA; Avinash Thakre, Ruling Party Leader in NMC; Tanaji Wanve, Leader of Opposition in NMC; Jayprakash Gupta, Member of Khadi Gramodyog Commission; Maya Iwnate, former Mayor, also shared the dais on this occasion.
'Jhanda Geet' penned by 'Padma Shri' Shyamlal Gupt was first sung by Sarojini Naidu in Congress convention, in presence of Mahatma Gandhi. Recalling this, Gadkari suggested that wider effort should be made to involve more and more students and acquaint them with the history of the freedom movement. He announced a competition of patriotic songs and said that at least one lakh students from all schools of Nagpur should participate in it. The competition should be held in all 10 zones, and Khasdar Sanskrutik Mahotsav Samiti will give attractive prizes. He also asked NMC to plan and show patriotic movies to students at the giant screen in Kavivarya Suresh Bhat Sabhagruha in Reshimbagh. Gadkari also suggested organising essay competitions, elocution contests, etc.
Fadnavis also spoke on the occasion and lauded NMC for taking initiative in organising the mega event at 125 locations across the city.
At the outset, the Mayor Dayashankar Tiwari made introductory remarks and explained the idea behind organising the event. In the main event, teachers and students of Barrister Wankhede Vidya Niketan of NMC presented 'Jhanda Geet' and other patriotic songs. Madhu Parad conducted the proceedings of the programme. Deepak Kumar Meena, Additional Municipal Commissioner; Subhash Pardhi, Member of Scheduled Castes Commission; Prof Rajesh Bagdi, Jitendra Ghodeswar, Prof Anil Sole, Dr Milind Mane, Rajendra Sonkusare, Dilip Dive, Pramod Tabhane, Divya Dhurde, Sunil Hiranwar, Sanjay Bangale, Rupa Rai, Ujjwala Sharma, Pragati Patil, Sandeep Jadhav, Vikram Gwalbanshi, Vandana Bhagat, Kishore Wankhede,KishorJichkar, Abhay Gotekar, Adv Dharmapal Meshram, Nagesh Sahare, Adv Nishant Gandhi, and others were present prominently.