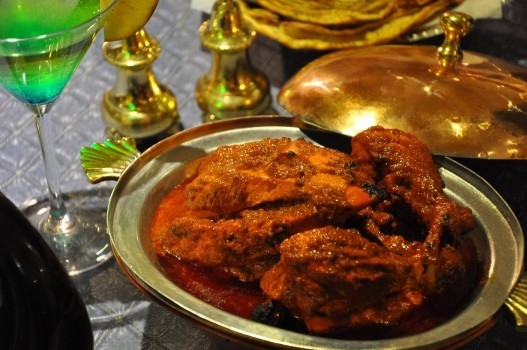 Ingredients
•
Chicken cut into 4 pieces on the bone

800 grams

•
Coriander seeds

2 tablespoons

•
Cumin seeds

1 1/2 teaspoons

•
Cinnamon

1 inch stick

•
Cloves

4-5

•
Green cardamoms

4-5

•
Black cardamoms

2-3

•
Black peppercorns

1 tablespoon

•
Salt

to taste

•
Red chilli powder

2 teaspoons

•
Yogurt

1/4 cup

•
Garlic paste

1 tablespoon

•
Ginger paste

1 tablespoon

•
Oil

4 tablespoons

•
Onions,grated

4-5 medium

•
Dried red chillies

2-3

•
Tomato puree

3-4 tablespoons

•
Turmeric powder

1/2 teaspoon

•
Green chillies

3-4
Method
Dry roast coriander seeds, cumin seeds, cinnamon, cloves, green cardamoms, black cardamoms and black peppercorns till fragrant. Set aside to cool.
Place the chicken in a bowl, add salt, red chilli powder and yogurt and mix well. Add garlic paste and ginger paste and mix again and keep in the refrigerator to marinate for 15-20 minutes.
Heat oil in a non-stick pan. Add onions and sauté till well browned.Coarsely grind the roasted spices with dried red chillies.Add tomato puree, turmeric powder and broken green chillies to the onions in the pan. Mix well and sauté for 3-4 minutes.
Add the marinated chicken and mix well. Add ½ the spice powder and mix well. Add 2-3 tbsps water and mix again. Cover and cook till the chicken is done.
Add the remaining spice powder and mix well, cover and cook on low heat for 10 minutes. Remove from heat and let it stand for a few minutes before serving.
Serve hot.