Nagpur: Yet another notorious act has been exposed at Patansawangi toll fee plaza located on Nagpur-Saoner-Betul road on national highway-69 in the state of Maharashtra and Madhya Pradesh. The toll booth which has consistently remained in the news for all the wrong reasons has landed in controversy yet again. Nagpur Today has got few pictures which reveals the bitter truth and expose the dubious connection that has brought this toll booth under bad light.
Nagpur Today has inspected the toll collection cabin and got to see how this plaza is being run on whims and fancies of KCC company – the current operator, local representative and the cops. While the common motorists are forced to pay hefty sum in the name of toll fee, few picked names of policemen and their families are allowed to go without paying a singly penny.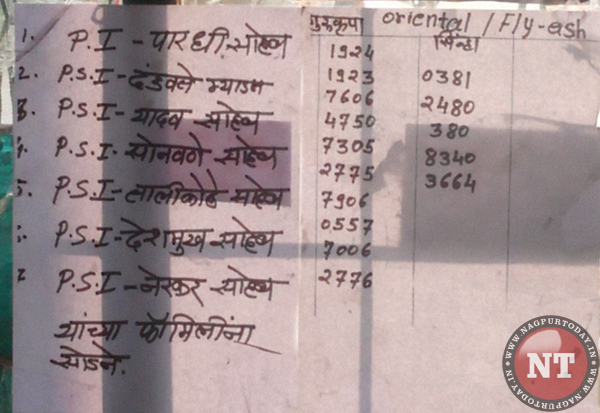 As per the photographs in possession of Nagpur Today, few lists have been pasted inside the toll collection cabin at Patansawangi toll plaza, in which names of some policemen have been specially mentioned for exempting them and their families from paying the toll tax. Similarly, it was also mentioned that vehicles from Gurukrupa and Oriental companies should also be let free. The locals have complained that the functioning at toll plaza is completely biased.
Patansawangi toll plaza is being operated by KCC company which took over five months back. Uday Shinde is representing this company at the toll booth. Previously, this toll booth was being operated by Praveen Pande from Mumbai. Pande remained in the controversy throughout the operation. It was alleged that KCC representative had supported Pande in functioning as per whims and fancies.
The names as mentioned on the handwritten list stuck inside the cabin are police inspector Pardhi saheb, police sub-inspectors – Dandwate madam, Yadav, Sonawane, Talikothe, Deshmukh, Nerkar. At the end it was specifically mentioned that the families of these policemen should be allowed to go. Only surnames have been mentioned in the list which calls for probe on higher level.
When Nagpur Today contacted Uday Shinde, he pleaded ignorance over any such list however he admitted that previous contractor had been in such a practice and had included over 3000 vehicles in the exemption list. "We are now trying to write off those lists," he said adding, "Any policeman in uniform are allowed exemption on mutual understanding." When asked why the families are being let off without paying any toll fee, he said he would have to look into the matter.
Clarifying further Shinde said that sometimes motorists create nuisance at the toll booth, causing a jam. For the sake, they let go some people just to avoid any clutter at this other narrow booth. However, he did not mention who these people are, who create nuisance at toll booths.
Meanwhile when Nagpur Today contacted Superintendent of Police (Rural) Rakesh Ola, he asked for the photograph on whatsapp. When we shared the picture and followed up, he said, "No such exemption is allowed to the policemen and their families. Only government vehicles and few exempted people are allowed to go free. I would further investigate the matter and take action accordingly."
… Team Nagpur Today