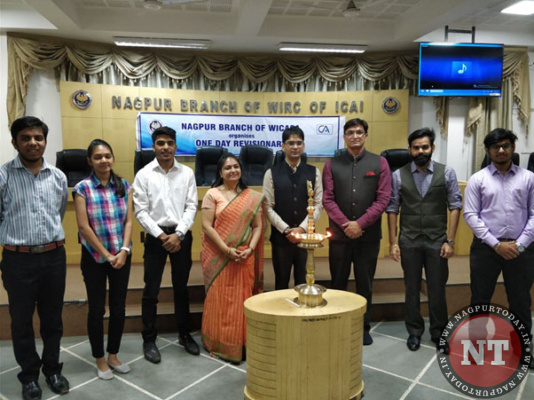 Nagpur: Nagpur Branch of WICASA organised a One Day Revisionary on the topic Audit and Assurance which was enlightened by CA Kavita Loya as the chief guest and the session was conducted by one of the most eminent faculties of the country CA Harshad Jaju from Pune.
CA Kavita Loya emphasized that the countdown for examination has already started. Passing CA examination is not a rocket science but it requires consistency and attentiveness. Thus one day revisionary class gives students opportunity to plan and schedule the study pattern for examination. She further stated that student shouldn't be studying late hours during & before last 15 days of the exam as that affects student's health and also builds up immense pressure which is not good while appearing exams. Hence it is very much vital to balance your studies from now. Thus she concluded by saying that passing IPCC exam will help students to gain practical knowledge in their articleship tenure and good articleship gives great life experiences and unmatched exposure.
CA Jiten Saglani Chairman WICASA, briefed students about how important the subject Audit is for CA Students as, in practical life it plays an important role further stating on the importance of this seminar and wished everyone a happy learning.
CA Umang Agrawal shared his thoughts on how this seminar will be a game changer for students who are writing their exam in near future. He elaborated that this seminar will give students an opportunity to clear the thought process for preparing in the last lap of their studies. Everybody should think on the positive side, as it's the examination of one of the best accounting bodies in the world.
CA Harshad Jaju began with his session taking students around the journey of auditing and assurance covering every minute detail related to the topic and emphasized on the little details that students tend to miss out during their studies. It was a power packed session wherein students could learn ample in less time.