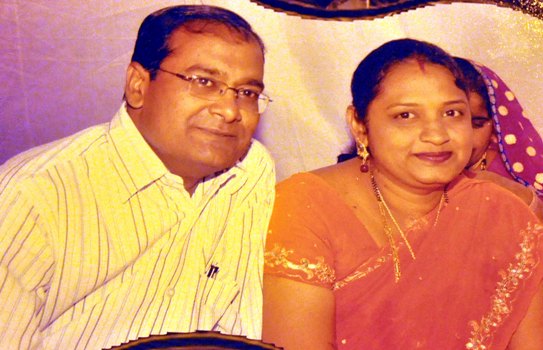 Nagpur News:
A small mistake of not wearing a helmet for a regular headgear user cost him his life and also his wife's in the same mishap. Rajesh and Shardha Bhaisare's death has orphaned their school going daughters- 10-year-old Astha and Smruddhi (7).
The accident took place hardly few minutes after the couple left their Chok's colony residence on Thursday night. The duo had travelled hardly half kilometres away from their home when a speeding truck knocked down their bike at Budhha Nagar turning near Ashok square.
Bhaisare's brother-in-law Amit Mohare (31) had come to the couple's home for a dinner. "Since it was too late, the couple decided to accompany Mohare till the highway and help him to cross the road. Mohare was on bicycle while the duo was on their bike," said Manish Mohare, Shardha's brother.
Manish informed that Bhaisare was a regular user of helmet but since it was a short distance to travel, Bhisare ignored. "But his small mistake, cost him his and his wife's life and also a life time suffering for their daughters," he said.
He told that Mohare crossed the road while the couple was about to turn back when an over speeding and rashly driven truck, coming from Kamptee road, knocked down their bike. The couple were thrown on the road and both had suffered serious head injuries. 
Eye-witnesses informed that Bhaisare had succumbed to his injuries on the spot while Shardha breathed her last during treatment at the hospital.
An auto rickshaw driver passing through the road helped people to take Shardha to MayoHospital. However, she too was declared dead after few minutes of treatment.
Bhaisare was working as an executive in a private automobile company.
Accused truck driver, Munna Kumar Singh tried to flee from the spot but was chased and nabbed by passers-by near Ashok Square. Eye-witness claimed that Singh was drunk and was driving in a crisscross manner.
Pachpaoli police said that they have conducted a medical examination of Singh and few signs of alcohol are indicated. Singh, a resident of Jharkhand claimed that he was heading to Jaripatka.