Nagpur News: Lady Entrepreneurs' Wing of Vidarbha Industries Association organized a very interesting and life related Panel Discussion on "Challenges of Manpower Management in Medium & Small scale Units" at VIA Hall.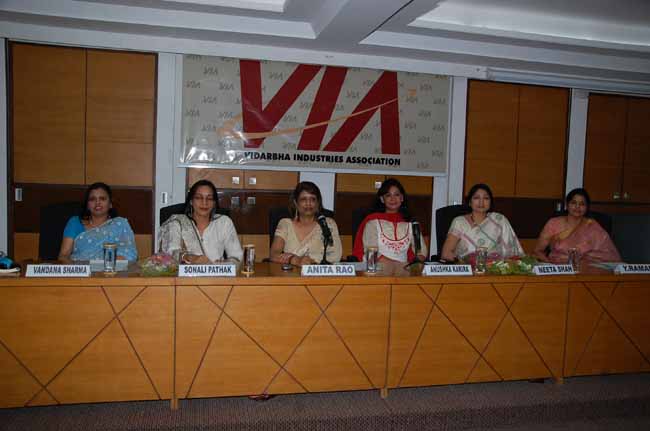 The Panellists' for the afternoon discussion were Dr. Neeta Shah, Head of the Department of College of Ramdeobaba Engineering & Management, Nagpur, Ms. Anushka Karira, Chief Promoter & Mentor Image Edge Institute for Personal Excellence Training Master Spirit & Life Coach and Soft Skills Trainer and Ms. Sonali Pathak, Vice President, DNC, Emerge Data Services Pvt. Ltd.
All three panellists stressed upon the qualities of management handling that help in retention and growth of manpower in small & medium sized enterprises. They said the ability to communicate with people at all levels is almost always named as the second most important skill. One should have clear communication about goals, responsibility, performance, expectations and feedback from the staff. Further, they said Integrity is one of the most important things for the staff.
The panellists said trust is an essential element in the relationship of entrepreneurs and staff. Entrepreneurs should check and control the work of staff and needs to be cool under pressure. He or she should have Team-Building Skills & Problem Solving Skills. The employer-employee relationship plays a great role in manpower management. Management should take effective steps to train, motive employees thru' monetary and non-monetary measures and create an atmosphere which develops a sense of belongingness for the employees. Employers should keep the channels of communication open and recognize the performance of each employees and reward them accordingly.
The programme was highly appreciated by the attendees.
Anita Rao, Chairperson, VIA – LEW welcomed in her welcome address highlighted the importance of effective Manpower management in SSI and how it can raise the enterprise to great heights or bring it down due to poor manpower management.
Manisha Bawankar started the session and introduced the panellists for the afternoon. All the VIA LEW members and non members asked relevant queries and could satisfactory find solutions to day to day problems is staff handling. Moderator for the programme was Y. Ramani, Past President- VIA. Vote of thanks was proposed by Vandana Sharma , Secretary, VIA- LEW.