Nagpur News: Padmashree Dr Ananda Shankar Jayant and the Shankarananda Kalakshetra ensemble presented Bharatanatyam and Kuchipudi at National Academy of Defence Production on 01 Jun 2013, on the occasion of Passing out ceremony of 45 Probationary Officers of 2011 (I) and (II) batch.
The programme opened with a mesmerising performance of Suryanamaskar, where dancers presented the meditative quality of Sun God who rides across the sky in his chariot drawn by seven horses, radiating brilliance and life giving energy. The troupe moved on to present Dashavataram – Ragamalika. Intricate footwork, expressive dance or abhinaya and kaleidoscopic choreographic patterns brought alive on stage, the 10 incarnations of Lord Vishnu. The audience was swept with devotion, when Ananda Shankar Jayant performed a solo on Meera Bhajan, where Meera says "Who else will look after me, but you, O Krishna?   You, who saved Draupadi's honour in the Kaurava court, O Giridhari, please protect me". Dr Ananda brought to the stage Tarangam – Ragamalika- Adi Kuchipudi solo , wherein she described Krishna as Navaneeta Chora, Govardhana Dhara, the one who showed the seven worlds in his mouth to Yashoda, the one who played the Raasa leela, the one who plays the Divine flute, the one to whom the saints and sages bow to. Then Dr Ananda and her group  moved on to present Thillana, a poetic and musical offering of gratitude in the dance form of Bharatanatyam, which was composed of rhythm, music, vibrancy and energy in praise of Rukmini Devi who established Kalakshetra and gave life to dance and artists.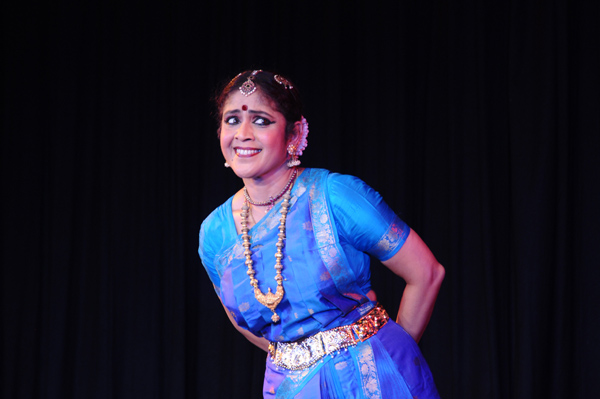 Dr Ananda Jayant is celebrated as one of India's leading classical dancers, choreographers and dance scholars. Dr Ananda holds a Masters degree in Ancient Indian History, a M.Phil in Art History and a Ph.D in Tourism. Dr Ananda is a senior officer of the Indian Railway Traffic Service, Ananda. posted in Secunderabad. Trained by generous teachers, she learnt dance at Kalakshetra, founded by Rukmini Devi Arundale. Dancing with joy, Dr Ananda, has polished her art to a fine pitch. Rigor of her training met a finely tuned intellect that effortlessly bridged traditional structures with contemporary inputs. The Troupe comprised of Professionals from Software and engineering industry, who has been practicing Dance as a passion in their pastime. Kum Sneha Magapu, Kum Krtithika Varsha, Kum Chelna Galada, Kum Aditi Rao, Kum Aditi Nigam and Kum Shrinidhi Narsaimham joined her in the Dance ballet. They were supported by N Renukaprasad in Nattuvangam, T P Balasubramanyam in Mridamgam, K Anil Kumar in Violin, S Venumadhav in Vocal, Surabhi Purna Cahndrasekhar in Lighting . Dr Ananda, a TED motivational speaker, who runs campaign for Breast cancer, appealed to the audience to listen to their hearts for pursuing their passion and bring glory to Indian Art and culture.