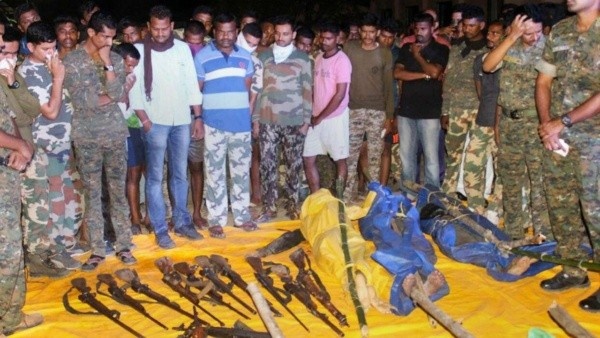 Nagpur: Security forces fired more than 2,000 rounds and more than 25 grenades to kill 33 Naxals during encounter which took place in Kasnasur forest in Tadgaon in Bhamragad tehsil of Maharashtra's Gadchiroli district on Sunday last.
According to sources, Kasnasur forest area is very dense, where at least four formations of the rebels — Perimili, Aheri Local Organisational Squads (LOS), Gatta LOS and Platoon 7 — had assembled to conduct brainstorming sessions on the various aspects of the movement in the south Gadchiroli, which is adjoining the Maoist fortress of Abhujmadh.
Despite this, personnel of C-60 unit and CRPF (Central Reserve Police Force) risked their lives and achieved the success in killing 33 Naxals (9 men and 24 women) in the encounter, which has shaken Naxal movement to the core.
The encounter began in morning and continued till 1330 hours. The encounter was done by young team under the guidance of senior officials.
The security forces had modern weapons like AK-47 and SLRs. Thirteen out of 33 Naxals killed in Kasnasur forest were identified, while dead bodies of 17 Naxals were found in highly decomposed condition in Indravati river due to which their identification is difficult.
Samples have been taken by police department for their DNA identification.
Deceased Sainath Atram was a resident of Gattepalli village in Etapatlli tehsil. Seven to eight persons from this village were missing prior to the incident, sources said.
Besides, top Naxalite leader Muppala Lakshmana Rao alias Ganapathy, has also been named in the first information report (FIR) filed by the police in the Rela-Kasnasur-Boriya encounter.
Ganapathy, who is the topmost leader (general secretary) of the Maoists, carries a reward of more than Rs two crore on his head. However, a top Gadchiroli police official, while talking to UNI, dispelled the rumours that Ganapathy too was among the dead.