OSN hold CME on diabetic rentinopathy and macular disieases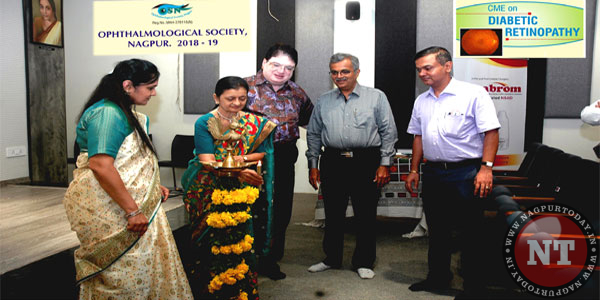 Ophthalmological Society, Nagpur (OSN) had organized a CME on Diabetic Retinopathy and Macular Diseases on Sunday 29th of July 2018 from 9.00 am to 2.00pm at IMA Annexe Dinkar Hardas Hall North Ambazari Road, Nagpur in presence of eminent Retina Specialist Dr. VATSAL PARIKH. Mumbai
"Blindness due to diabetes is common and serious health issue . It is not so uncommon considering prevalence of diabetes in our country. It is largely preventable and curable if we are alert and taking adequate care of eyes and health in general. Controlling diabetes, blood pressure, cholesterol etc. is first and most important step. Along with it timely laser treatment and special (anti vegf or steroid injections) in the eye is important. Sometimes vitrectomy surgery is advisable. Treatment at appropriate time saves and improves vision and hence helps family and society at large by preventing blindness at young age" said Dr Vatsal Parikh. Retina Specialist, from Mumbai.
At the outset President OSN, Dr. Varsh Rahatekar made opening Welcome speech and stressed how important is Diabetic Retinopathy since India is leading in non communicable diseases like Diabetes Hypertension, Obesity etc and general public lack of awareness of diabetes complications.
Faculties who guided in the CME were Dr. Shamik Mokadam, Dr. Rahul Tiwari, Dr. Saurabha Agrawal Dr. Vinay Nangia besides Dr. Vatsal Parikh and discussed on Retina in Diabetes and Macular degeneration.
Dr. Sulabha Deshpande and Dr. PRashant Agnihotri were the Chairpersons. An issue of in house publication "Chakshu" was released at the hands of Dr. Parikh. A Few clinical cases were also discussed. Dr. Rhishikesh Mayee Hon Secretary Proposed the vote of Thanks.