Orange City witnessed sharp decline in crimes in 2018, says top cop

City sees reduction of 898 crimes — 9 percent — in 2018 as compared to figures of 2017
Nagpur: The Commissioner of Police Dr Bhushan Kumar Upadhyay on Thursday asserted that the Second Capital City of Nagpur witnessed a sharp decline in crimes in the year 2018. The city registered reduction of 898 crimes — 9 percent – in 2018 as compared to the figures of 2017.
Addressing a press conference, the top cop of city said that serious crimes such as murders, attempt to murder, bodily attacks, burglaries including chain snatching, robberies, house-breakings, vehicle lifting, as well as crimes against women including rapes, molestations, torture of married women declined considerably in 2018. "Law and order was maintained judiciously during various occasions such as Bhima Koregaon protest, reservation agitations, festivals like Holi, Ganeshotsav, Navratri, Dhamma Pravartan Din, Eid, Mohurrum, morchas, and on other occasions," he said.
Giving a break up, Dr Upadhyay said that 85 murders were reported and 81 were detected in 2017. But the year 2018 saw 72 murders and detection in 71 cases. Similarly, 73 attempt to murder cases were registered in 2017 whereas in 2018 witnessed 78 incidents of attempt to murder. The year 2017 reported total 9482 crimes of various natures. But in the year 2018, crimes declined to great extent as the number of crimes registered stood at 8584 – 9 percent decline. The detection rate too improved in the year 2018.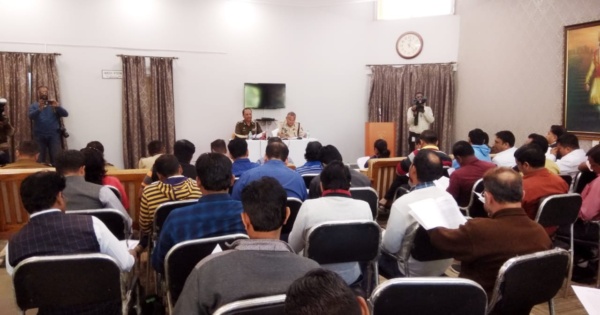 "The city police launched various special drives to smash the crime with heavy hand. The special drives include Operation Crackdown Part 1, Part 2 and Part 3 in which total 16377 criminals were detained and interrogated. Preventive/prohibitive action was taken against 2743 criminals. Similarly, Operation Wipe Out Part 1 and Part 2 drive was also launched in 2018 in which raids were carried out in 437 cases. In the Operation All Out, searches were carried out to nab externed criminals, absconding as well as wanted criminals. The drive was also aimed at action against possessors of illegal arms and weapons, preventive action against notorious goons," the Commissioner of Police said.
Dr Upashyay further said that city police launched 'Chhatra Police' initiative at Shri Ramdeobaba College of Engineering and Management (RCOEM) to connect with students of schools and colleges. He said that more and more men and women from decent families are committing crime nowadays which is opposite to earlier conception that only poor and uneducated class was involved in various crimes. He further said that more than one lakh people lost their lives in road accidents every year in India.
These road fatalities can be reduced by following traffic rules, he opined and urged the students to obey it as duty. Chhaatra Police initiative would inform the students on all these issues and make them responsible students. An official from concerned police station will visit the school/college twice in a month and discuss problems of students. He will guide them as per their needs. The police will show awareness video clips to the students and also organise seminars on crime and its implications, traffic, terrorism, drugs menace and others, the top cop said.
City police also launched Counselling and Reformative Education Centre (CARE) for juveniles in conflict with law. Many of the juveniles make mistakes under parents' pressure and in anger. Under the CARE initiative, counselling programmes are being organised at N-COPS office. Police department also organised a cricket tournament for juveniles.
The reduction in crimes in 2018 will act as morale booster for city police. Sustained and effective policing helped police curb crimes. Criminals will be brought under strict vigil through various surveillance network. Dr Upadhyay promised to continue targeting gangs as well as individual criminals in future also.