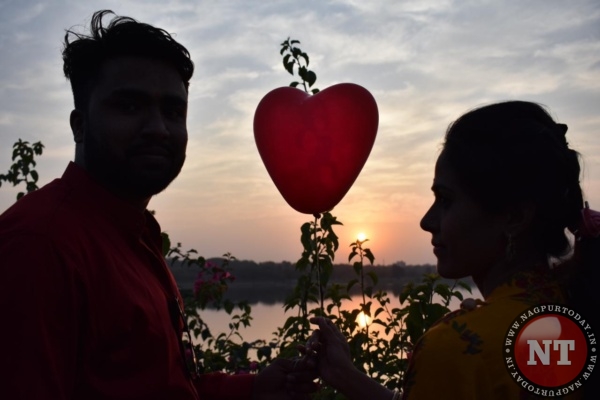 Nagpur: The serene atmosphere in Orange City turned "loving" and "romantic" as well city celebrated Valentine's Day with great joy and fervour. Men, women, boys, girls, kids and not to forget lovebirds visited various vantage places of their choice and exchanged gifts and greeting cards to enjoy this beautiful day.
For those who are in love, Valentine's Day celebration adds extra dose of romance in their lives. The festival has emerged as a popular dating and gift-giving festival and therefore has a major social and economic significance. Though there are various traditions and customs associated with the festival, the most popular way of celebrating Valentine's Day is by expressing love to sweethearts and dear ones with an exchange of gifts. Some of the most traditional Valentine's Day gifts exchanged comprised flowers, hearty balloons, chocolates, sweets, and lots of loving and admirable gifts.
Going on dates with beloved is the other major way of celebrating Valentine's Day Festival. Restaurants witnessed a busy time as people celebrated the day of romance by cherishing mouth-watering delicacies. People also enjoyed dance, parties, and balls organized by various clubs and hotels.
With several organisations opposing the Valentine's Day celebrations during the last few years, the city police maintained a strict vigil to foil any untoward incident and ensured the day passed off peacefully. A posse of policemen were deployed at all major parks, amusement parks, theatres, clubs and restaurants. A large number of policemen in plainclothes were seen patrolling all roads in the city.