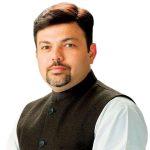 Nagpur: Ashish Deshmukh, the expelled state general secretary of the Congress party, has spoken out about his future political plans, emphasizing the importance of the wider interests of Vidarbha. Deshmukh questioned the authority of the State Disciplinary Action Committee led by former Chief Minister Prithviraj Chavan, stating that only the All India Congress Committee (AICC) committee headed by Tariq Anwar had the power to expel a regional office bearer or a member of a parliamentary board.
"A conspiracy was hatched to remove me from the party. You can figure out who hatched it. A person from Vidarbha left his MP seat from BJP and joined Congress. He then contested Lok Sabha from the city. That person must have a grudge against me," he said in a veiled comment at MPCC President Nana Patole.
Deshmukh criticized the State Disciplinary Action Committee's decision to expel him, asserting that only the AICC committee under Tariq Anwar had the authority to take such action. He suggested that his removal from the party was part of a conspiracy, implying that someone from Vidarbha, who switched allegiance from BJP to Congress and contested the Lok Sabha election from the city, may have played a role. Although not naming MPCC President Nana Patole directly, Deshmukh's veiled comment seemed to allude to Patole's potential involvement in the conspiracy.
Emphasizing his commitment to the welfare of Vidarbha, Deshmukh stated that his next political move would be decided based on the region's broader interests. He expressed confidence in his ability to win the Assembly election from Katol or Saoner, even as an independent candidate, highlighting his determination to serve the constituents of his constituency.
Deshmukh addressed the recent visits to his home by Deputy Chief Minister Devendra Fadnavis and BJP State President Chandrashekhar Bawankule, stating that their relationships transcended politics and had familial ties dating back 20 years. He urged against interpreting their visit from a purely political perspective and encouraged trust and understanding. Deshmukh clarified that his association with Fadnavis and Bawankule did not indicate a departure from Congress, reiterating his intention to remain with the party and dismissing any alternative interpretations.
Having consulted with lawyers, Deshmukh claimed to have thoroughly studied the AICC constitution, asserting that the Chavan panel lacked the authority to dismiss him. While considering legal action, he stated that he had not yet decided whether to pursue it or not, leaving open the possibility of challenging his expulsion through the judicial system.