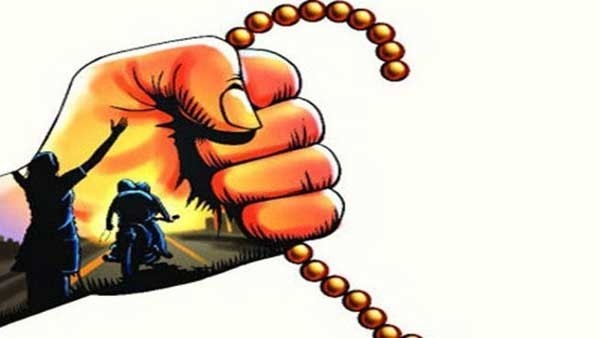 Nagpur: One more woman was robbed of gold ornaments while travelling in an auto on Friday. The crime of the kind has increased in alarming magnitude as gangs of men and women travelling in autos as co-passengers have gone of robbing spree in recent times.
In the instant case, a native of Thanegaon, Tehsil Lakhni, District Bhandara, Ranjana Purshottam Dhenge (48) arrived in Nagpur around 1.30 pm on Friday for attending a programme at a relative's house. Ranjana boarded an auto at Bus Stand for going to Dighori. Two con women already sitting in the auto.
The two women distracted Ranjana's attention and slyly pilfered her gold mangalsutra worth Rs 34,000 kept in her bag. Midway, the two women burglars deboarded the auto and vanished with the booty. As Ranjana came to know about the theft, she approached Nandanvan police and lodged a complaint.
PSI Bambode registered a case against the two accused women under Sections 379, 34 of the IPC and searching for them.
Chain snatching:
Bike-borne goons snatched gold chains from two women in separate incidents in Gittikhadan and Tehsil police jurisdictions on Friday.
A resident of Plot No. 126, Jagruti Colony, Friends Colony, Nirmala Mahadeo Akre (64) was taking a walk near her house around 7 pm on Friday. Near NIT Garden Main Gate, two bike-borne miscreants, aged 20-25 years, snatched her gold chain worth Rs 20,000 and fled the spot.
Gittikhadan PSI Rathod, after registering a case under Sections 392, 34 of the IPC, searching for the robbers.
In other incident, Sonal Shailendra Gangotri (31) of Hansapuri, Chhoti Khadan, was returning home around 10.15 pm on Friday. Two goons riding on a motorcycle snatched Sonal's gold chain worth Rs 40,000 near HP Godown and fled.
Tehsil PSI Fartale booked the accused under Sections 392, 34 of the IPC and probing the matter further.