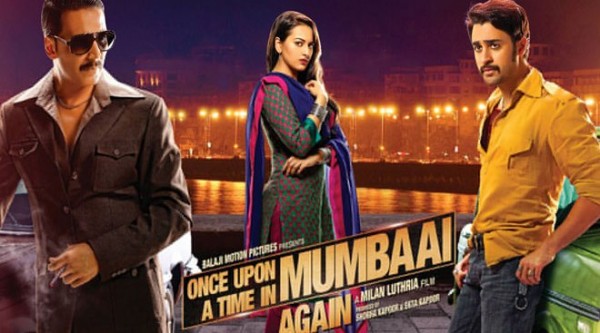 Film                : Once Upon A Time In Mumbaai Dobara
Director        : Milan Luthria
Starring         : Akshay Kumar, Imran Khan and Sonakshi SInha
The movie is a sequel to the 2010 film, "Once Upon A Time In Mumbai," a biopic about the rise of Mumbai gangster Sultan Mirza through the city's underworld.
Once upon a time in Mumbai Dobara is all about when gangsters were heroes, there lived a mafia king called Shoaib Khan (Akshay Kumar). He was a charismatic man with womanizing expertise. Milan Luthria directed Once Upon A Time In Mumbaai Dobara revolves completely around this don and the characters played by Sonakshi Sinha and Imran Khan are only secondary.
The movie begins from where the prequel Once Upon A Time In Mumbaai ended. Only this time, it is Akshay Kumar who is Shoaib Khan instead of Imran Hashmi who played the role in the first part. Shoaib, a successful don who assassinated his mentor, the previous don Sultan Mirza has now earned his share of respect. OUATIMD is set in the 1980s of Bombay, where Shoaib's sole interest is the supremacy of Mumbai, but his heart is swayed by a lovely lady called Jasmine (Sonakshi Sinha).
In the movie, Shoaib is like a godfather to Aslam (Imran Khan). Aslam was spotted by Shoaib during one of his visits to the slums. The tagline of the movie says 'This time it's personal' and yes, we do see a lot more than crime and killing. When Shoaib's passion for Jasmine grows into something more, there arises a rift between the young Aslam and godfather Shoaib. The two vie for Jasmine's love.
Most romantic films end with a trip to the altar. Most endorse the fairy tale aspect of love. The romance in OUATIMB is real and good old style. Akshay Kumar plays the bad guy unapologetically. He is chilling as the dreaded don and endearing as the helpless (and later dangerous) man in love.
OUATIMD's crowning glory is Akshay Kumar who goes all the way with his "negative" act in one of his career-best performances. The scene where he walks into a police station in broad daylight and then walks out as casually is one of the film's high points. The last 30 minutes of the film belong only to him and he rises way above the script with his raw and gritty persona.
But however, set backs of this movie have dominated. With Akshay Kumar, who isn't a Khiladi anymore but is a 'complete game' as he says in the film, OUATIMD is unexpectedly a big time let down. We didn't expect Luthria to peek in the minutes of the law-breaking world as he didn't glance into it in the original Once Upon A Time In Mumbaai. What we anticipated from him was to maintain a similar verve in premise, which won accolades in the limelight of Ajay Devgan and Imraan Hashmi earlier.