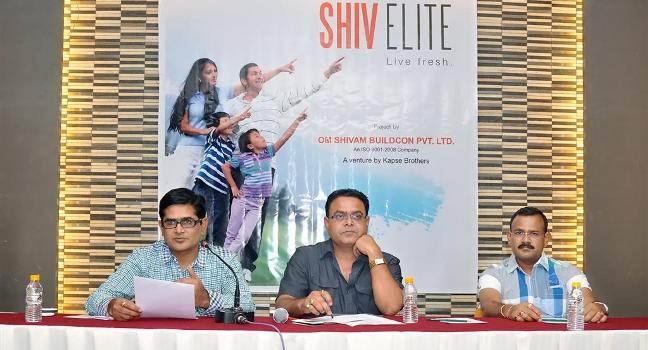 The festive times call for some fortunate buying and what's better than owning an auspicious home of your own. While going for the house of their dreams, the strength and the quality has always been the prime concern of buyers in Nagpur besides exploring the amenities that matches their lifestyle.
Nagpur Today interacts with one of the key real estate players Chandrashekhar Kapse in this regard to know how the great quality, on time delivery, consistent credibility and committed efforts always wins over the customer's heart.
OM Shivam Buildcon Pvt. Ltd, an ISO 9001:2008 Certified company, was founded in 2004. The company is led by highly qualified Promoters Ravindra K. Kapse (chairman) and Shekhar K. Kapse (Managing Director) who is entrusted with marketing, co-ordinations and operational activities and Pramond K. Kapse (Director), who looks after construction and overall development of the compamy. A construction record of 361 flats, 495 row houses/ duplex and 20 shops with equal number of highly satisfied customers is a testimony to their commitment to quality and customer satisfaction. Besides construction the group has diversified its activity in the Ready Mix Concrete (RMC) plant.
MD Chandrashekhar Kapse shares his success story with Nagpur Today. The Excerpts
Nagpur Today : Tell us about yourself and the Company?
Chandrashekar Kapse: We are three brothers who are sons of a farmer from Yawatmal district. We had come to Nagpur for pursuing our education. OM Shivam Buildcon Pvt Ltd is a joint family venture. My elder brother Ravindra Kapse is the Chairman of the company, and Pramod Kapse is the Director and looks after the construction and overall development of the company. I am the Managing Director entrusted with marketing, co-ordination & operational activities.
Nagpur Today: How did you get into Real Estate Business?
Chandrashekar Kapse: Actually I was studying Chartered Accountancy and we were into financial consultancy, providing financial guidance for getting loans from financial institutions. A plot layout owner had approached us with his client for financial loan from bank for selling his layout. We asked him to show his layout. When we saw his layout it struck to us that a colony could be constructed on that piece of land.  We offered the layout owner to build a colony on that land and to release each plot at a time. We started building Duplex on each of plot released by the owner and rest is history.
In our first scheme itself we built around 140 Duplexes, without any prior experience. By sheer hard work and overwhelming response to the project, all the 140 duplexes on Kamptee road were booked in just an year.
Nagpur Today: How many projects have you completed till now?
Chandrashekar Kapse: Till date we have completed 10 Projects. Our projects have covered most of the areas of Nagpur like Kamptee Road, Katol Road, Amravati Road and Wardha Road.
Nagpur Today: If you could tell us the total Number of units sold so far?
Chandrashekar Kapse: About 1000 units have been sold so far in our various projects starting from Shivnagari (Bhilgaon), Shiv Arpan (Narsala), Shivkripa (Bhilgaon), Shivganga Enclave (Borgaon), Om Enclave (Borgaon), Shiv Enclave (Borgaon), Shiv Heights (Beltarodi), Shiv Arcade (Bhilgaon) and Shiv Elite (Zingabai Takli).
Nagpur Today: Any major project coming up?
Chandrashekar Kapse: Yes 10 years of enriching experience, good work and customer confidence has boosted us to launch a 'single project of 1000 flats' called 'Shiv Elite' on Wardha Road. It is being launched in Phases. The 1st Phase of this project has been booked completely and the 2nd phase will be launched in Mahashivratri wherein also 50 flats have been booked. Then there will be 3rd & 4th Phase of 300 flats each .
We have also ventured into production of Ready to concrete (RMC) in the year 2012 and have grown to become one of the largest and most innovative producer of concrete products for a diverse range of market sectors, with a capacity of producing 50000 bricks per day in our 2 plants.
Nagpur Today : What are the facilities you are providing for this prestigious project of yours?
Chandrashekar Kapse :' Shiv Elite' at Wardha road will have all the facilities and amenities of top class. Horse riding, Green zones(Landscape gardensetc), Health& Fitness(Jogging track,Gymnasium etc), Sports (Swimming pool,Snooker table etc), Security & Safety, Entertainment, Convenience, value addition(high speed elevators), any many more other facilities.
High point for the customer's here will be the one time maintenance deposit of 1.5lacs for 25 years. The response of the Nagpurian's in this project is very good the 1st Phase will be completed by March end. Four months before time of possession scheduled. And we have maintained high quality of work in the construction.
Nagpur Today : What is the USP of OM Shivam Buildcon ?
Chandrashekar Kapse : We belong to a farmer family, we know the value of money put in by the customers. We believe that we are a service provider and we should give the best service possible.
Nagpur Today :What is your outlook on Real Estate market of Nagpur ?
Chandrashekar Kapse : Nagpur 's Real Estate Industry always had a steady growth .It is being said that there is a slack now . Nagpur's growth is steady, there is not that much Ups &down.
NagpurToday : How  OM Shivam Buildcom contribute inCorporate Social Responsibility ?
Chandrashekar Kapse: We try our little bit to contribute to our social responsibility  towards the society . We have about 180 staff strength, we try to help them in medical. One of our lower staff 's child had to do heart surgery and was costing him 1.5 lacs, which he was not able to afford. When we came to know about it, we paid for all the expenses, and the child is doing well now. Similarly we have contributed in helping out with 3 or 4 heart surgeries for our staff.
Every year we, conduct Mahaprasad for about 20000 people at Koradi mandir. During Ganesh utsav also we give Mahaprasad for about 5000 people.