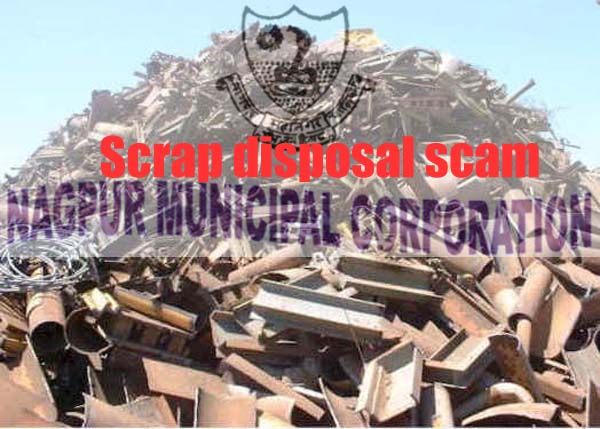 Nagpur News.
The "scrap deal" scam which hit the Nagpur Municipal Corporation (NMC) a few days ago, has scattered more flaws while the undercover efforts have been reported to prevent the 'mastermind'. The officials have been reportedly sitting on the files to retard the inquiry process.
According to sources, as soon as the scam came into light, the NMC Commissioner Shyam Wardhane ordered a detailed investigation into the "Scrap deal" and submission of the investigation reports. However, the scam report, involving the traffic branch of NMC, did not reach the NMC Commissioner's table but got stuck midway with the deputy commissioner and has been accumulating dust since then.
According to reports, the old, dilapidated signal poles were replaced with the new ones for smooth road traffic in the city. Similarly, barricades, advertisement poles were also removed. All these materials piled up the NMC's scrap stock. Since the material was lying in scrap yard for many years, the traffic department sent a proposal to NMC Commissioner for disposing of the scrap material. The then Traffic Department Engineer Naseer Khan and his Assistant Junior Engineer Ajay Dahake had sent the proposal to the NMC Commissioner. Accordingly, tenders were invited for the disposal of the scrap. Four companies took participated in the tender process.
Scrap sold at much lower prices
The tenders were opened in February 2013. The scrap material was sold at Rs 20 a kilo while the market rate prevailing at that time was Rs 35-40 a kilo. Moreover, the order for disposing of the scrap was limited to 6000 kilograms. However, the Engineer Naseer Khan and Assistant Junior Engineer Dahake "conspired" and sold 8000 kilograms of scrap. Both ways they put the NMC at a loss and profited the concerned purchasers of the scrap. Naseer Khan was suspended over the issue. Dahake was "notorious" for clearing the bills in lieu of some 'fixed' percentage. The contractors and Dahake had a free-for-all is a well known fact.
Report lying scrap
When the matter got exposed, the NMC Commissioner Wardhane and the Additional Commissioner Hemant Pawar ordered the concerned authorities to probe the matter and submit the reports to them. Accordingly, the investigation was done and the reports, too, were submitted to the department heads. However, the reports did not reach the tables of the two top bosses, instead, the reports changed their course and are now lying in the "scrap" under the dusty chairs of some officials.