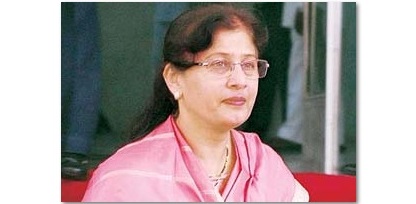 Nagpur news.
As the city is gearing up for a five-day national agriculture exhibition scheduled to start from February 9, the dearth of accommodation has landed the civic body in a fix. Even as the concerned officers are finding it tough to arrange for the accommodation of more than 50,000 farmers expected to take part in the exhibition, the latest demand for allotment 100 rooms came from minister of state and NCP leader Fauzia Khan. This had added to the dilemma of civic authorities as they have already assigned all for the exhibition which is touted as the dream proposition of Union Agriculture Minister Sharad Pawar. Fauzia Khan had asked for 100 rooms to accommodate the guests coming for her son's marriage clashing with the expo date i.e. on February 9.
Fauzia holds the charge of public relation, cultural, women empowerment and children development, health and school education .department in Maharashtra government. Her son's marriage ceremony has been scheduled on February 9. Though the bride is from the Nagpur, the groom and his guests will leave from Parbhani and will require accommodation. She has applied for 100 rooms to accommodate the guests.
On the other hand, the agriculture exhibition is the aspiring project of Pawar. The international-level exhibition will start on February 9 and will conclude on February 13 and the district administration has geared up to make best arrangements for the event. It may be mentioned that after 1959, it will the first time that the Second Capital will organize such an exhibition on massive scale.
As per the reports, it is expected that more than 50,000 farmers, officers and visitors will attend the exhibition. And arrangements for their accommodation have been planned in Ravi Bhavan, guest houses of state and central ministers, MLA hostel, prominent hotels, and 125 halls. And booking of these places have been made from February 8. Discussions are on to book more halls in and around Nagpur to accommodate more farmers for the exhibition.
The clash of two events has increased the problems of city administration. If Agricultural Minister's project is important, than Fauzia Khan's programme is important to her and the administration cannot afford to displease any of these two. But arrangement for both the demands would not be possible either. It will be interesting to see how the administration manages both the events without displeasing any of the leader.
It is noteworthy that Sharad Pawar had lamented former State President Bhaskar Jadhav for spluring on his son's marriage ceremony and as a result, he had to lose his post. Now, it will be interesting to see how Pawar reacts to his own party state minister over the same behaviour.