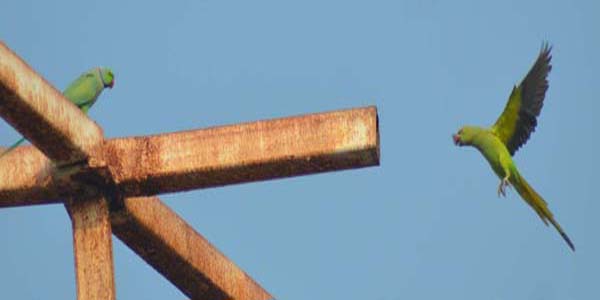 It's the time for happenings all around Nagpur. Perhaps it is this part of the season that sees Orange City grooving to the tune of fresh arrivals, be it in corridors of power at Vidhan Bhawan in view of winter assembly session or the homes in the town where weddings galore aplenty. The groom arrives with the baraatis to take home his Dilwali Dulhaniya, while the migratory birds cross seven seas to perch on the pure nature here.
When everywhere there are unions and reunions around the city, then how can our great Indian parrots lag behind?
VCA stadium at Jamtha, which too is again awaiting a fresh stormy test cricket series betweenIndiaandEnglandfrom December 19, had some uninvited 'guests' of Indian species in its vicinity.
The male and female parrots which were spotted sharing some naughty moments at the stadium seemed excited with the fast running activity meter of Nagpur, so much so that they landed on the stadium to express their greetings for the change..
Overwhelmed as the two appeared, the pair of parrots came forward to welcome the change – change of season as well as the change in their mood.
Shedding all inhibitions the parrots clearly left a larger message that may the 'outsiders' be received with opened arms in the city, the local ones too have explored their own means of welcoming themselves like the way we did.
All Image  by Sandeep Gurghate