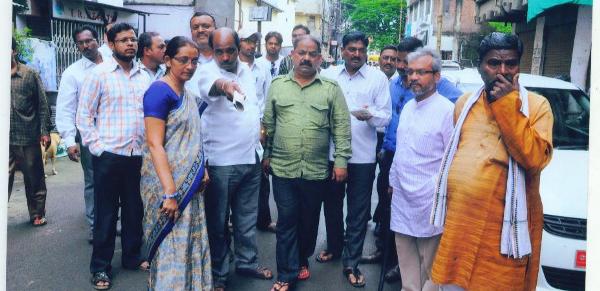 Nagpur News:
The Chairman of Water Reservoirs Committee Sudhakar Kohale  inspected the laying of new pipeline by OCW for water supply to Gandhibagh and Satranjipura Zone areas. A total of 113 kilometers of drinking water pipeline has been replaced with the new one in the areas. This work resulted in deep holes on the grounds and roads were also dug up in various places posing serious problems for the users. The Corporators of the areas had complained to Kohale in this regard.
The Chairman Kohale and Zone Chairperson Rashmi Fadnavis visited Hansapuri, Geetanjali Talkies area, Kasabpura, Motgharepura, Salt Factory area, Golibar Chowk Main Road and other areas and inspected the roads dug up by the OCW men. Both the leaders went on inspecting the roads by walking throughout the areas.
The visit exposed OCW as several roads were not restored since January. The residents also complained of receiving unclean water through the taps. Kohale immediately directed the OCW to restore all the roads in the areas within 15 days and submit a report in this connection. Kohale also asked the OCW authorities to resolve problems of residents or face an action.