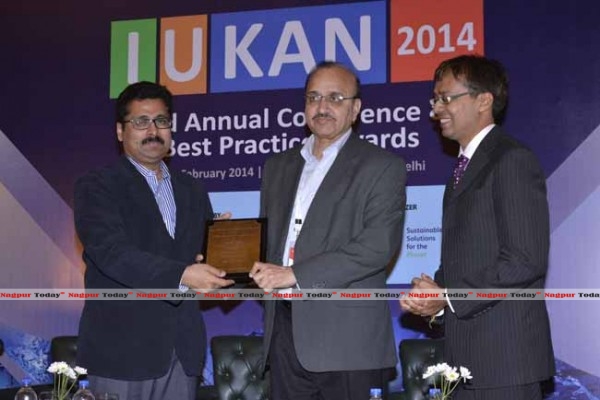 Nagpur News: The Orange City Water (OCW) that is operating and maintaining existing water supply system of Nagpur has started number of innovative practices in city like cleaning of elevated service reservoir, Ground Service Reservoirs (GSR's) by an in-house developed OCW ESR Cleaning system, installed high tech GPS equipment on nearly 283 tankers and GIS mapping to detect underground hidden pipelines, valves etc.
OCW's innovative practice of cleaning of ESR and GSR's by an in-house developed OCW ESR Cleaning system have bagged a prestigious national level award for Best Practice category in innovations at the 2nd Annual Conference of India Utility Knowledge and Networking Forum (IUKAN) at New Delhi on Feb 13, 2014, informed a Press Release.
The IUKAN Forum held at New Delhi with a focused agenda on "Operational Challenges and Best Practices" to help utility operators to learn and make improvements in their areas including strategy, policy, contract, services and operations. The theme this year is "Complementing Reforms Bottom-up: Through Improved Operationalization and Engaged Local Ecosystem".
The conference was attended by many dignitaries like Hon. Mayor of Nagpur and President of All India Mayor Council, Mr Anil Sole – Dr Ishar Ahluwalia, Chairperson ICRIER, Alok Shiromany – Head Technical Committee of JnNURM, Malini Shankar – Principal Secretary of Govt. of Maharashtra and Col. Rahul Gowardhan, Director HR/PR at Orange City Water (OCW), Nagpur.
The conference also awarded 4 water utilities for their work and OCW is one of them. OCW has been awarded or Best Practice category in innovations and others in water design basically it was for in- house developed OCW ESR Cleaning system.
It may be mentioned here, with help of ESR Cleaning system till (January 31, 2013), OCW has cleaned all 36 ESR's out of total 39 ESR's commonly known as overhead tanks, which were not cleaned earlier since last many years. 3 ESR's including Laxmi Nagar (Old), Minimata Nagar and Wanjari Nagar were under rehabilitation process.
It may be mentioned here OCW has planned to make ESR cleaning a continuous procedure and in from Feb 15 has decided to start cleaning process of all 39 existing ESR/GSR's in city.
For this OCW has designed safe and scientific solution to clean and disinfect overhead storage water tanks (ESR's) involving a 5- stage cleaning process using state-of-the-art in- house built equipment known as OCW ESR Cleaning system.
The system has obviated the need to age-old tiring process of cleaning tanks. The OCW ESR Cleaning system does the job in eight to 10 hours instead of earlier two to three days period. The system has been assembled with high tech pressure pumps, pipes and has been  specifically designed to clean ESR's on 25-30Mtr height and GSRs.