75-member multi-super speciality medical team deputed on-site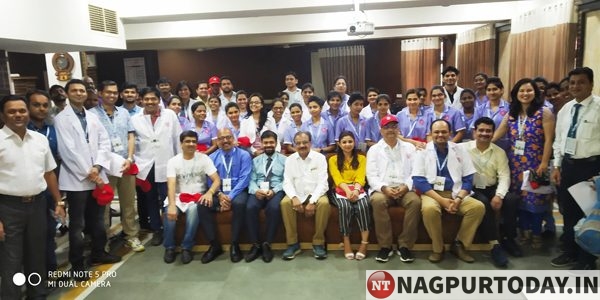 Nagpur: Orange City Hospital & Research Institute (OCHRI) added one more feather in its overflowing cap by becoming the official medical service provider for the India- Australia 2nd ODI played recently at VCA, Jamtha, Nagpur. Orange City Hospital & Research Institute's medical & ambulance services was sought by VCA for providing emergency medical and other related health care services to players and more than 45 thousand spectators for practice session and match day. OCHRI was also the official Medical Service Provider for month long ICC WC T20 at Nagpur in 2016. ICC and BCCI observers had applauded the professional disciplined services of OCHRI conducted under aegis of VCA during the said month long undertaking.
OCHRI Medical Committee consisting of Dr. Anup Marar, Dr. Noorul Ameen and Sunil Sure and VCA Medical Committee Chairman Adv. Dilip Daga assisted by Irfan Razaq and Kunal Bhumralkar executed the medical emergency plan successfully for players and spectators in the stadium over and above laid down BCCI medical guidelines. Inside VCA stadium; two emergency rooms equipped with monitor, Ventilator, Defibrillator and other paraphernalia apart from 2 Cardiac Ambulances, 2 BLS Ambulances along with comprehensive Medical Team of Intensivists, Physicians, Orthopedicians, Cardiologist, Neurosurgeon, Ophthalmologist, Maxillofacial surgeon, Anesthetist, Diabetologist, Rheumatologist, Medical Officers and Paramedical staff rendered their expert services. These specialists were spread all over the stadium to handle any eventuality.
On site emergency medical centers was capable of handling all types of medical emergencies at the venue. There was well equipped Player Medical Centre, Spectator Medical Centre, on field Rapid Response Team, 4 First aid stations and 11 medical booths in specific stands. Dr. Noorul Ameen- Medical Coordinator and Shri. Sunil Sure- Admin Coordinator for this event under the expert guidance of Dr. Anup Marar successfully synchronized the whole project for VCA on behalf of OCHRI.
Dr. Vidya Nair, Director- RNHPL who as First Aid Coordinator of this venture organized and supervised the 4 First Aid stations stated that VCA's intentions to have first aid stations was justified when it was noticed that more than 150 odd spectators availed the benefit. Over and above; medical services of 11 booths were utilized by around 300-400 odd spectators. Timely emergency care to 2 needy spectators and officials and Ambulance transports of needy to hospital by Spectator medical center manned by Dr. Palak Arora was also noted. Earlier OCHRI's ambulances along with medical team also escorted the India and Australia Team from Airport to their respective hotels.
The commendations on behalf of VCA was conveyed by Adv. Dilip Daga, Chairman- VCA Medical Committee. He stated that the unity, spirit and passion seen in each OCHRI staff member to keep up the image of their city and OCHRI is quite rare and creditable. The medical services provided by TEAM OCHRI was the best-coordinated undertaking. VCA officials were unanimous that such a huge presence of trained qualified medical personnel in uniforms and aprons and easily distinguishable caps all over stadium were never seen earlier.
Dr. Anup Marar- OCHRI Director and Chief Coordinator of this event, said that "OCHRI set a benchmark amongst all Cricket associations of India as stated by VCA officials of assembling so many super- specialists, specialists, trained nursing and paramedical staff with ALS and BLS ambulances more than laid down guidelines, we could help Nagpur becomes trend setter for others to follow in country." He also conveyed his gratitude to each one of the participating members for their devotion and missionary enthusiasm, which led to success of this project.
Usually only Orthopedicians and Physician are expected in PMC, SMS and RRT while all 4 first aid stations and 11 booths were expected to be manned by MBBS doctors as per laid down VCA guidelines; However, OCHRI medical committee on basis of their previous experience in managing 2016 WCL T20 felt that a varied group of super specialists and specialists were ideally essential on site to face any eventuality. Hence TEAM OCHRI proactively ensured range of specialities to manage any varied emergency needs even from Neurosurgery to Cardiology.
Dr. Noorul Ameen thanked all super-specialist's specialists namely Dr. Akash Saoji, Dr. Rajesh Atal, Dr. Palak Arora, Dr. Prashant Rathi, Dr. Shantanu Sengupta, Dr. Ramakrishna Shenoi, Dr. Shailendra Anjankar, Dr. Abhay Agashe, Dr. Sunil Dixit, Dr. Yogesh Kamdi, Dr. Sagar Shrivastava and Dr. Rupam Divthane, who selflessly responded to call of OCHRI to keep up the image of Nagpur City Health Care sector. VCA also specially recognized the efforts of Ambulance team led by Shri.Santosh Arke and Shri. Saurabh Chapane. OCHRI In-house medical team consisted of Dr. Santosh Gadge, Dr. Himanshu Dudeja, Dr. Deepak Dongre, Dr. Tanisha Ingle, Dr. Mayur, Dr. Tushar, Dr. Ankit and Dr. Swati Bangare. 25 nursing and 25 paramedical personnel under supervision of Sr. Jessy Abraham, OCHRI Nursing In-charge were also deputed on site to assist the team of doctors.