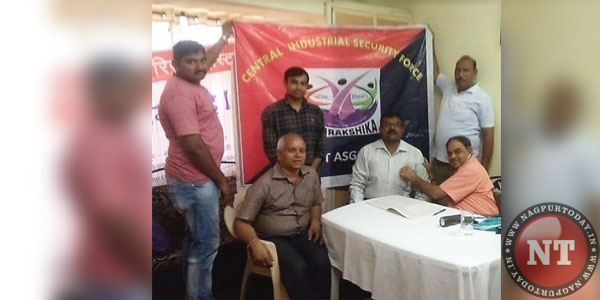 Nagpur: Orange City Hospital & Research Institute, the fully NABH & ISO accredited multi super speciality hospital, recently conducted on-site health check of all personnel of Central Industrial Security Force (CISF) which provides security to Nagpur Airport. Dr. A K Verma, OCHRI Family Physician, undertook the annual check-up screening of all CISF employees at Nagpur Airport in a 2-day long camp.
On this occasion Dr. Verma said that because of the changing lifestyle, it has become important to adopt preventive healthcare measures and to go for regular health check-ups. It is known that there is 10% reduction in loss of working days which directly improves productivity.
Ravi Kumar, Deputy Commandant, CISF, Nagpur Airport stated that "Employee health checks offer a variety of benefits. Health screening demonstrates that employers care about their staff and are dedicated to helping them stay healthy. CISF is committed to enhance workplace wellness in their supervised undertakings."
Dr. Anup Marar, OCHRI Director, said that, "Under Corporate Social Responsibility Policy, Orange City Hospital and Research Institute supports various organizations in holding health screening camps for the benefit of their employees". He added that a correctly designed health check-up programmes can increase productivity, boost morale and reduce stress
Sachin Gaikwad, CISF Reserve Inspector organised this camp while Rajan Thakur and Br. Pratik Sonekar from OCHRI under supervision of Sunil Sure, OCHRI General Manager worked hard for the success of this camp
Orange City Hospital & Research Institute conducts on site annual check-ups in various welfare centric companies, industries and organizations. OCHRI has an occupational health division which provides onsite feasible executive health check-up facility to promote preventive health. OCHRI is ranked 1st best in Nagpur by The Week Nielsen National survey 2017. OCHRI is always at the forefront of extending health care services to any employee welfare centric organization in and around Nagpur as a part of its preventive health checkups program initiatives. OCHRI is empanelled by all major employee welfare friendly organizations and companies based in Central India.