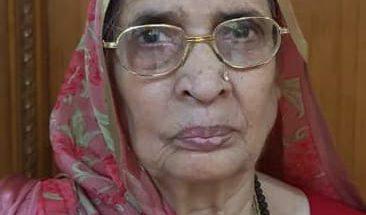 Nagpur: Ratnidevi Satyanarayan Agrawal, mother of renowned steel industrialist Rohit Agrawal passed away here, on Wednesday. She was 86 years old. Ratnidevi was mother of Rohit Agrawal of M/s Rohit Steels, she left for heavenly abode peacefully, this morning. Funeral cortege shall...
विनायकराव दत्तात्रय लोखंडे, निवृत्त इन्कम टॅक्स ऑफिसर, रा. २०, सेंट्रल एक्साइज लेआउट, टेलिकॉम नगर, खामला, नागपुर ह्यांचे आज सकाळी दू:खद निधन झाले. ते ७५ वर्षांचे होते. त्याच्या मागे पत्नी, २ मुले सचिन आणि नितीन, तसेच मोठा आप्तपरिवार आहे. अंत्यसंस्कार आज दि...
Nagpur: Amarjeet Singh Walia, resident of Kamptee Road, Budh Nagar, Nagpur, left for heavenly abode on Thursday, August 27. He was father of former Nagpur Today staffer Ritu Walia. Paying tributes to her father, Ritu said, "Dad having shown exceptional...