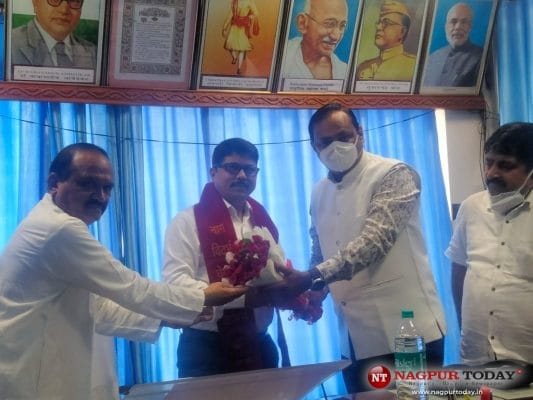 Nagpur: A delegation of Nag Vidarbha Chamber of Commerce (NVCC) and office-bearers of Hotel Owners Association on Wednesday called on the newly appointed Joint Commissioner of Food and Drugs Administration (FDA) Suresh Annapure and felicitated him by offering him shawl and bouquet.
The delegation, led by NVCC President Ashwin Mehadia, apprised Annapure about the activities of the Chamber and also highlighted the problems being faced by food traders and hotel owners.
The FDA Joint Commissioner, after discussing the issues in detail, assured the delegation that the FDA under his leadership will try to resolve all the issues being faced by traders. He further said that keeping in mind the interests of common people regarding food safety, a seminar is being organised to discuss on various subjects including food licence.
Present on the occasion include FDA Assistant Commissioner A P Deshpande, NVCC Treasurer Sachin Punyani, Food and Drugs Sub-Committee Convener Adv Nikhil Agrawal, Joint Convener Prabhakar Deshmukh, Dnyaneshwar Rakshak, Dilip Thakral, Hotel Owners Association's Bhavan Shankar Dave, Narayandas Rathi, Purshottam Joshi, Manish Agrawal, Pramod Ghughre, and other members.